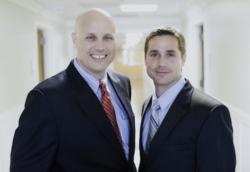 This new study can be used to determine which weight loss surgery patients will see the best results in improving their overall health. - Dr. Patrick Domkowski of Riverside Surgical & Weight Loss Center
Sebastian, FL (PRWEB) October 09, 2012
After having bariatric surgery, some patients have seen their diabetes go into remission, while others experience less dramatic results. This science behind this anomaly has always been unclear, until now. A new study, presented at the 29th Annual Meeting of the American Society for Metabolic and Bariatric Surgery has revealed the two factors that make some candidates for bariatric surgery much more likely to achieve complete remission of their Type II diabetes.
In the study, 67 percent of patients saw remission one year after surgery, but that number jumped to 96 percent when patients met these two factors:
1. Patients were not already on insulin.
2. Patients did not have reduced pancreatic function as determined by glucose disposition index (GDI was not below 30 percent of normal).
Note: The GDI measures how well the pancreas creates insulin and how effectively the body uses that insulin to regulate metabolization.
The results of this study were simple - patients who were not on insulin and didn't have reduced pancreatic function were much more likely to go into remission of their Type II diabetes as a result of bariatric surgery. These factors encouraged remission regardless of a patient's weight before surgery, or their weight loss after surgery. Other recent studies have also reached similar conclusions -- that Type II diabetes remission after weight loss surgery doesn't necessarily have to do with weight loss. Instead, certain physiological changes which occur as a result of surgery seem to be the cause for remission. For example, different weight loss surgery options, specifically, gastric bypass surgery, causes a physiological change in the level of gut hormones that regulate the metabolization of sugars and fats.
Knowing the factors that contribute to remission could help doctors determine who are the best candidates for bariatric surgery. "This new study can be used to determine which patients will see the best results in improving their overall health," said Dr. Patrick Domkowski of Riverside Surgical & Weight Loss Center. "The study further proves that diabetes becomes more difficult to manage as it progresses," he said. As a result, it is recommended that patients considering bariatric surgery as a solution to their diabetes, should do so sooner rather than later, before their diabetes has progressed too far.
About Riverside Surgical & Weight Loss Center:
Riverside Surgical & Weight Loss Center helps people realize their goal of achieving significant and lasting weight loss through minimally invasive bariatric surgery. Riverside is proud to be the only comprehensive surgical weight loss center in the Treasure and Space Coast area to offer patients a comprehensive package to complete their transformation. The Riverside team focuses on providing a safe and exceptional surgical experience with our state-of-the-art surgical technology. As a board certified surgeon, specializing in bariatrics, and a member of the ASMBS, Dr. Domkowski is privileged to offer the latest and safest medical technology for primary, conversion, and revision weight loss surgeries.
For more information on Riverside Surgical & Weight Loss Center, please call 772-581-8003 or visit http://www.riversidesurgicalweightloss.com/
###