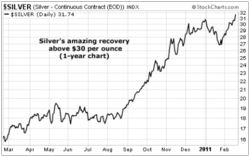 Precious metal jewellery prices won't rise this Christmas.
(PRWEB UK) 10 October 2012
A recent upsurge in the price of Silver and has caused anxiety amongst jewellers who specialise in precious metals, especially Silver. Bill Murphy speaking on GoldSilver.com, forecast that the price of Silver would rise by 50% by the end of the year.
"The price of silver has gone up from $26-27 to $32 an ounce and will be up to $50-$60 an ounce by the end of the year."
Bill Murphy, Chairman, Gold Anti Trust Action CMTE
Speculation by investors such as J P Morgan and HSBC, has led to the price of precious metals rising steadily over the last few years and recent statistics have shown that this trend is continuing. The rising cost of commodities, is partly caused, according to the report, by a weak dollar, causing investors to put their money into commodities, but also by the growing demand for silver and gold from high Tech manufactures.
Despite the volatility in the precious metal markets this year, a report on Consumer20.com says that many top jewellery companies are determined not to pass on the price rise to their customers this Christmas. According to the article the rise in the cost of silver, does not mean that companies like Ortak will raise the prices of their products, because they know that in the current economic climate this would deter their customers from shopping with them.
"Our success is based upon our early principles which are still held today. Innovative design, caring craftsmanship, impeccable quality and real value for money. At current levels we have no plans to pass on the increase in raw material to our customers"
Ortak.co.uk