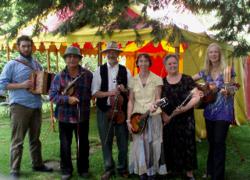 This music is made to dance to, and is the mainstay of the Tremperskill Boys
Margaretville, NY (PRWEB) October 10, 2012
The Blue Deer Center will be presenting a wide variety of programs in the 2013 season, including yoga, community fires, Plant Spirit Medicine classes and much more. As it closes its 2012 season this fall, the BDC is proud to present this one-day music festival, featuring local talent from the Hudson Valley regional area.
Mike Herman grew up on Long Island, New York. Inspired by Jorma Kaukonen on Hot Tuna recordings, the bluesmen of the 20s and 30s, and a strong foundation of music studies at SUNY Purchase, Mike developed a "finger-picking" style for which he has become known. A trip through Mississippi, meeting old time country blues guitarists, fostered an even deeper desire in him to keep the music of these times and cultures alive. He blends styles – acoustic blues, bluegrass, ragtime, and, most recently, old-timey music – into a unique style all his own.
Featuring Mike Herman, The Catskill Mountain Boys are a bluegrass band also bringing to the stage Henry Herman, Todd Pascarella, and John VanBenschoten. Mr. VanBenschoten, the lead vocalist, started playing guitar and banjo at age 17 and has played in bluegrass duets from Prescott, Arizona to Sitka, Alaska. He studied banjo with the legendary banjo picker William Bradford Keith – known to many as Bill Keith. Henry Herman first picked up a violin at age six, but, according to him, did "not start fiddlin'" until he was 22 when he joined the "Almost Heaven Band" in Miami. Todd Pascarella plays bass and performed for several years with the rock band "The Lost Beat Heroes" before he moved to the Catskills in 2001.
The Tremperskill Boys, known as a traditional "string band" are neither all strings, nor all boys. Their repertoire is derived from fiddle tunes now native to the Catskill Mountains. Over one hundred years ago, the Irish and Scottish farmers and laborers of the Catskills produced a distinctive style of fiddling, described as "hard driving, northern Appalachian music." This is music made to dance to and is the mainstay of the Tremperskill Boys. Their varied and talented group of performers includes John Jacobson, who grew up learning Catskill Mountain fiddling, Ginny Scheer, cofounder of the Catskill Folk Connection, Amy Lieberman, on mandolin (and an "avid fan of Phish") and John VanBenchoten, one of the original members of the band.
The Blue Deer Center will host these spectacular performers for one day only, on Saturday, October 27th, from 11AM-4PM. Visit here for details and to pre-register.
Blue Deer Center provides an important setting for teachings and practices that promote balanced relationship with the natural world. They particularly welcome ancestral approaches to healing, ritual, and retreat. The Center's origins are rooted in the Huichol shamanic tradition and living connection to the universal and sacred spirit of fire.