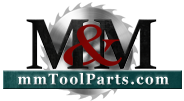 If you need to build,
create or repair something, mmToolParts.com has the resources to help you do it
better.
Salt Lake City, UT (PRWEB) October 09, 2012
Endeavoring to make hard work easier, the M&M Tool Group has launched a new Magento eCommerce website designed to help crafters, construction professionals and other power tool users achieve total efficiency more easily. Structured to appeal to all types of power tool enthusiast, the new site, mmToolParts.com, is an informational resource as well as a marketplace for power tools, woodworking machinery, accessories, hand tools and replacement tool parts.
Recognizing the importance of power tool repair, mmToolParts.com is built around providing the resources, like parts lists and power tool breakdowns, the guidance and the replacement tool parts to ensure fast and simple repairs. Offering thousands of tool diagrams and an on-hand parts inventory of more than 250,000 individual parts, mmToolParts.com maintains that equipment repair and maintenance is the foremost contributor to greater productivity and better results.
While the focus of mmToolParts.com is providing replacement tool parts and parts for industrial machinery, tool parts and repairs are only a fraction of the site's overall purpose. Offering a huge inventory of power tools, accessories, hand tools and woodworking and metalworking machinery, mmToolParts.com is designed to help users find equipment and properly maintain and repair that equipment in the future. "We understand that tools and machinery are a huge investment," says Scott, a representative of mmToolParts.com, "we are here to help you make informed choices about the tools you invest in and to help you protect that investment down the road – our goal is to help you keep your tools powerful and your workday productive."
Serving tool users on a global scale, mmToolParts.com offers a comprehensive selection of specialty power tools, pneumatic tools, hand tools, machinery and accessories; and owing to a unique commitment to all walks of craftsmen and tradespeople, mmToolParts.com provides virtually all industrial tools from hand planes to hammer drills, tape measures to table saws. "If you need to build, create or repair something, mmToolParts.com has the tools you need and the resources to help you do it," Scott continues, "let our experience steer you in the right direction."
mmToolParts.com also provides informational videos and articles and an interactive Tool Finder. The Tool Finder, exclusive to the M&M Tool Group, is an online tool designed to turn user specifications into individualized recommendations for the most compatible power tools and machinery. mmToolParts.com is a factory authorized service center for all the manufactures they support and, in addition to trusted brands like Makita, Dewalt, Bosch and Porter Cable, mmToolParts.com sells and services all major industrial brands. Recognized as a Makita Pro Dealer, a Bosch Systems Specialist Dealer and boasting a personal relationship with each of the manufacturers they support, mmToolParts.com not only offers a comprehensive inventory, competitive low prices and experienced advice, they also offer an established history of high-performance. As they put it, their "big time experience, small town service" will improve the way you shop for tools and machinery and power tool parts.
The M&M Tool Group is comprised of M&M Tool and Machinery, ToolsandMachinery.com and mmToolParts.com. For more than seventy years M&M Tool has served the tool communities with more robust experience and overall better service. Seeking to make the tool industry and power tool users more efficient, the M&M Tool Group offers streamlined and comprehensive access to power tools, machinery and all their working parts. For more information about mmToolParts.com or to experience their commitment to satisfaction, please visit http://www.mmtoolparts.com.