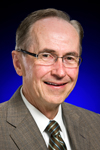 San Diego, CA (PRWEB) October 08, 2012
Robert S. Sullivan, a member of Cubic Corporation (NYSE: CUB) Board of Directors, was chosen as Director of the Year for Corporate Governance by the San Diego Corporate Directors Forum.
The forum is a nonprofit organization that promotes high standards of professionalism in corporate governance. Each year, it honors San Diego's top directors in several categories to pay tribute to their outstanding performance in the boardroom and behind the scenes. Honorees are nominated by their peers.
Sullivan was one of six directors who received awards at a banquet September 27 at the La Jolla's Hyatt Regency Hotel.
Sullivan joined the Rady School of Management at the University of California San Diego in 2003 as its founding dean. He is an expert on entrepreneurship, knowledge management and operations management.
Cubic Corporation is the parent company of three major business segments: defense systems, mission support services, and transportation. Cubic Defense Applications, a leading supplier of combat training systems, communications, cyber technologies, and global tracking solutions. Cubic Mission Support Services is a leading provider of training, operations, maintenance, and technical support services for the U.S. and allied nations. Cubic Transportation Systems is the world's leading provider of automated fare collection systems and services for public transit authorities. For more information about Cubic, see the company's Web site at http://www.cubic.com.
###