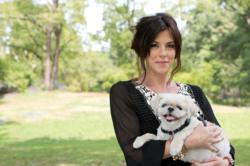 (PRWEB) October 08, 2012
On "Survivor: Amazon," Jenna Morasca became the youngest woman ever to win the reality show's top prize. Now Morasca is working with The Humane Society of the United States to help animals be survivors, too. She has been named a spokesperson for The HSUS on preparing for disasters and rescuing animals, working with The HSUS' Animal Rescue Team, which travels the country to help animals in need.
"The key for you and your pets in surviving a disaster is to have a disaster plan that includes your animals, and to never leave your pet behind if you have to evacuate your home," said Morasca, a Pittsburgh native who now lives in New York City. She encourages people to plan for disasters regardless of where they live. "People shouldn't get complacent because they don't live in a hurricane zone. You can live anywhere and be forced to leave your home because of storms, floods, wildfires, even power outages and human-caused disasters."
"Just remember, if it's not safe at home for you, it's not safe for your pets," added Morasca. "Visit humanesociety.org/disaster to make sure your pet is a survivor."
Morasca is helping The HSUS spread that message through audio and video public service announcements that have just been released for the Web and radio and television stations around the country. As she did during Hurricane Isaac, Morasca also uses social media to alert her followers to The HSUS' work in assisting animal victims, such as pointing people to pet-friendly shelters, evacuation routes, and other emergency resources on The HSUS's Facebook page and Twitter feed.
She is working to bring attention to the work of The HSUS' Animal Rescue Team, which provides rescue and temporary care for animals displaced by disasters, as well as for animal victims of cruelty situations such as puppy mills, hoarders and dogfighting operations. This cause is particularly close to Morasca's heart, as she recently adopted "Bobbi-Ricki," a pit bull-mastiff mix from the Dog Habit Rescue in Brooklyn, N.Y.
Morasca never shies away from a physical challenge, as proven by being on "Survivor," "The Amazing Race" and the new YouTube series "Fitness Guinea Pig" for Everyday Health, so she hopes to have an opportunity to go into the field with the HSUS Animal Rescue Team.
As an advocate for all animals, Morasca has also worked with The HSUS and other organizations to bring attention to animal welfare issues ranging from protecting horses to not wearing fur.
To view and download the PSAs, click here.
For tips about what you should do to protect your pets from disaster, go to http://www.humanesociety.org/disaster.
Follow Jenna Morasca on Twitter: @JennaMorasca.
-30-
Media Contacts:
HSUS – Stephanie Twining, 301-258-1491, stwining(at)humanesociety.org
Jenna – Carie Goldberg of Gold Standard Sports, carie(at)goldstandardsports.com
Follow The HSUS on Twitter. See our work for animals on your Apple or Android device by searching for our "HumaneTV" app.
The Humane Society of the United States is the nation's largest animal protection organization. For more than a half-century, The HSUS has been fighting for the protection of all animals through advocacy, education, and hands-on programs. We are supported by more than 11 million Americans. The HSUS - Celebrating animals and confronting cruelty – On the Web at humanesociety.org.