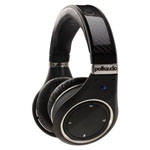 Atlanta, Georgia (PRWEB) October 11, 2012
10rate editors Steve Holdgren and Brian Jones cut through all the choices out there in the Headphones category to come up with their top choices. According to the Best Earbuds page at 10rate.com they selected their top choices based on the following criteria:
1. Sound quality
2. Comfort for various spans of time
3. Price vs value
4. Durablity of cords and speaker units
5. Included ear fittings, cases, or mic
Shure, Bose, and Sony all had highly rated tablets according to the reviewers. They said, "Bass is one thing Shure had in mind when they were designing these earbuds. The range of sound is great but tends to be a little heavy on the low side, leaving the sound a touch unbalanced. This can be a good or bad thing depending on how much bass you are in search of," when reviewing the Shure SE215 earbuds.
Editors also evaluated and selected the Best Wireless Headphones based on the following:
1. Sound quality of highs and lows
2. Hands free capabilities with cell phones
3. Easy to use controls on the headphones
4. Compatibility with many devices
5. Battery life for listening and standby
6. Noise cancellation and isolation for listening and talking
7. Price for functionality of the headphones
According to reviewers Sony, Jaybird, and LG all figured prominently in the rankings. When reviewing the Sony headphones, editors noted some of the highlights. "These Sony over-the-headphones pack a punch when it comes to sound quality over Bluetooth and they have very effective passive noise cancellation"
Lastly, editors chose the  Best Noise Cancelling Headphones with Bose, V-moda, and Polk Audio all being selected according the the Top 10 list. The Bose headphones "provide a comfortable fit while quieting the noise around you to whispers and hums. They produce a great and wide range of sound, but some say they may be a little too heavy on the bass."
10rate.com conducts reviews in various product and services categories and publishes "Expert Top 10 Lists for Everything in your life." The company's web site strives to "Make it Easy" to select from the hundreds of choices there are in the product and service market place. All products and services are thoroughly researched by the companies expert editors prior to receiving a rating on a 1-10 scale. In addition to product reviews the companies editors write guidelines, buying guides and articles on various topics surrounding each product or service category covered to help educate the consumer.