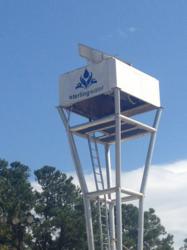 We've come a long way to finally commercialize a product we feel can democratize clean water.
Freeport, FL (PRWEB) October 10, 2012
SterlingWater Ltd. an international water purification device manufacturer announced the debut of their new solar-powered, water unit called the Waterfal. This inaugural unit will provide clean drinking water powered by a conventional solar panel system using patented technology developed by SterlingWater. The device's technology challenges convention by using no filters, pumps, or other mechanical devices to process the water. It relies on natural laws and gravity to create a high vacuum condition that promotes extremely low temperature vaporization of source water into clean vapor that is harvested as clean drinkable water. Low temperature conditions require low energy enabling alternative energy sources like solar energy and other similar sources to power such a new device.
"We've come a long way to finally commercialize a product we feel can democratize clean water," said George Forbes, SterlingWater president and CEO. "Driving down the energy consumption using uncomplicated means allowed us to create a sustainable water provider at a competitive price to a thirsty market."
This inaugural Waterfal is intended to serve the demand for a small family unit. SterlingWater recently completed their first sale to a private client for the cleanup of surface water on their estate. It is a stripped down version of the higher volume unit the company is finalizing. It was in response to clients' request to field a simple, self-contained unit for immediate deployment in remote areas. The Waterfal is installed at a height so special considerations are required for its installation. SterlingWater intends to follow up the debut of the Waterfal with its second unit with higher volume in the near future.
SterlingWater, founded in 2010 and headquartered in Florida, intends to serve the water purification market. It developed the technology based on patented technology from New Mexico State University and furthered it to commercialization over the past year.
SterlingWater's progress has not gone un-noticed. Investors' Circle, one of the most active angel networks in the US according to the recent Halo Report, has invited SterlingWater to its Fall 2012 Venture Fair & Forum, Oct 24-25 in New York. Investors' Circle has propelled $4.7 million into high-impact companies to date in 2012 and is assisting SterlingWater in its inaugural capital-raising endeavor. "With 33% of our global population living in water stressed areas, our members have shown a real appetite for clean water solutions," says Justin Desrosiers, Director of Strategy & Operations at Investors' Circle, "We're very excited to include SterlingWater at our event this fall."
SterlingWater is an emerging water purification company powered by alternative energy. Based on patented technology from New Mexico State University, SterlingWater serves the sustainable, affordable, clean water market. Self-funded to date, it is actively transitioning to the next stage of commercialization. Contact: george(dot)forbes(at)sterlingwaterco(dot)com, +1-850-737-1920.
Investors' Circle (IC) is the oldest, largest and most successful early-stage impact investing network in the world. Hundreds of angels, venture capitalists, foundations and family offices have joined together to promote the transition to a sustainable economy. IC has propelled $152 million plus $4 billion in follow-on investment into 255 enterprises and funds dedicated to improving the environment, education, health, and community.
Contact: Sally Steele, ssteele(at)investorscircle(dot)net, 415/255-6844 x110