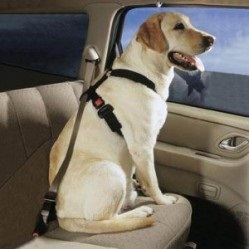 The car's airbags can prove deadly for pets. Restraining pets in the back seat is the safest for them.
Newport Beach, CA (PRWEB) October 08, 2012
New Jersey lawmakers are looking into a measure that will require all pets to buckle up on car rides. According to an Aug. 16 news report in The Star-Ledger, the measure is the brainchild of Assemblywoman Grace Spencer (D-Essex) who said she got the idea from a fourth grade class at a Newark charter school. Spencer said she was motivated to see this legislation through after she heard from her veterinarian that a small dog broke its leg when its owner suddenly stopped the car. However, another group of Republican lawmakers has introduced a bill that would ensure that pets can ride seatbelt-free, The Star-Ledger reports. The article also states that New Jersey's law is vague regarding the transportation of pets.
Under the proposed bill, (A3221), drivers will be slapped with a $20 fine and could also be convicted of an animal cruelty offense, which carries a civil penalty of up to $1,000, the news report states. Pet car harnesses cost anywhere between $12 to more than $40. So far, no states have laws requiring animals to be restrained inside a car. However, eight states, not including New Jersey, have laws requiring pets to be restrained in the beds of pickup trucks.
According to a study by the AAA Foundation for Traffic Safety, unrestrained pets can also pose a significant distraction to drivers. A recent AAA survey reports that 29 percent of drivers are distracted by a dog while driving. About 65 percent said they have participated in at least one distracting behavior while driving with their dogs. More than 52 percent said they pet their dog while driving and 17 percent allowed their dogs to sit on their lap while driving. Other distracting behaviors drivers admitted to include giving treats to their pets or playing with them while driving.
Restraining pets in vehicles is good not only for the safety of the pets, but also their owners. "There is no question that any type of distracting behavior can increase the risk of a crash. As a dog owner myself, I welcome this law, which will ensure the safety of both pets and pet owners."
The advantages of restraining your pet outweighs the disadvantages, Bisnar says. "Restraint systems restrict the movement of the animal in the event of the crash minimizing injuries or even preventing them. The car's airbags can prove deadly for pets. Restraining pets in the back seat is the safest for them. It may not be the most pleasant ride for your pets, but it will certainly be the safest way to travel."
About Bisnar | Chase
The California car accident lawyers of Bisnar | Chase represent victims of auto accidents, defective products, dangerous roadways, and many other personal injuries. The firm has been featured on a number of popular media outlets including Newsweek, Fox, NBC, and ABC and is known for its passionate pursuit of results for their clients. Since 1978, Bisnar | Chase has recovered millions of dollars for victims of auto accidents, auto defects and dangerously designed and/or maintained roadways.
For more information, call 800-561-4846 or visit http://www.california-lawyer-attorney.com for a free consultation.
Sources:
http://www.nj.com/politics/index.ssf/2012/08/nj_lawmaker_pushes_for_pets_to.html
http://petspot.aaa.com/pet-passengers/keep-your-two-legged-and-four-legged-passengers-safe/