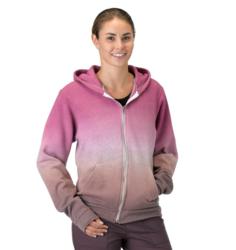 Denver, CO (PRWEB) October 09, 2012
Denver-based yoga clothing company, be present, is bringing a collection of brand new women's dyed tops into its Fall 2012 line. This marks the first season that not only these styles have been seen from be present, but also the method by which they are dyed.
The Piece-Dyed Collection includes four new tops for women: a full-zip hooded sweatshirt, a U-neck Modal® tee and a Modal® blended tank. These items are dyed after the knitting process and each is done individually, by hand. This process by which the tops are dyed mean each item is unique and one-of-a-kind. Two dye patterns are available in each of the four new styles: ombre and stripe.
The word ombre comes from the French word meaning "to shade." This is a dip dye effect that shades the garment, with one color graduating into another. be present is offering two variations of ombre shades in each of the four styles. Flamingo fades into Currant in one variation and Burnt Orange fades into Chocolate in the other.
The striped dye pattern is available in Seaweed & Ink and Red & Currant. All of the tops have thick, alternating colors running the entire length of the garment.
All Fall styles, including the new piece-dyed collection are will be available for retail sale on the company's website, http://www.bepresent.com with new selections added daily. Wholesale orders are currently being taken for the new line as well. be present suggests all wholesale inquiries be directed to wholesale(at)bepresent(dot)com.
be present, clothing for the yoga lifestyle, was established in Colorado in 2002 by Amy Lopatin Dobrin and Jon Dobrin. All be present clothing is proudly made in the USA. The brand remains at the forefront of the yoga apparel industry, continually designing clothing that is original and functional.