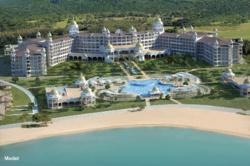 The Riu Palace Costa Rica resort is located in Matapalo of Sardinal, Guanacaste, a popular beach area and tourist destination in Costa Rica
Boca Raton, FL (PRWEB) October 09, 2012
Construction delays are not uncommon when it comes to hotels. This is especially true when a natural disaster strikes creating unplanned destruction to the building being worked on. This was the case for the Riu Palace Costa Rica Hotel, a luxury new all-inclusive resort on the Costa Rica's Guanacaste coast that was set to have its inauguration in the first week of November 2012. Now, after an earthquake that ranked as high as 7.6-magnitude struck the country's west coast, the hotel has had to delay the second phase of their construction, and with it, their previously scheduled inauguration.
The Riu Palace Costa Rica resort is located in Matapalo of Sardinal, Guanacaste, a popular beach area and tourist destination in Costa Rica. It is situated next to the popular All Inclusive Riu Guanacaste Resort The hotel was being built on a landfill on the Huesera Stream, a mangrove swamp that is protected by the Costa Rican government. When the earthquake struck, construction workers reported that five floors in the part of the hotel that was being worked on were damaged.
The Guanacaste hotel had been keeping employees working without a break to finish the construction on the second phase of the project. Riu has increased their workforce – moving labor away from the Riu Guanacaste Hotel (which only suffered minor damage) in order to meet the grand opening in November which has been presold to the public for months.
Riu Palace Costa Rica is scheduled to open to the public on November 2nd.
About AllInclusive.co:
Allinclusive.co was created by a group of veteran travel agents and tour operators with more than 30 years experience as a wholesale tour operator in the Caribbean and other exotic places. For more information, visit http://www.allinclusive.co.