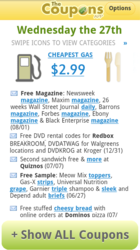 It acts as a one stop solution for all my gift shopping needs plus you really get to hear about deals and offers available near me with absolute ease that I otherwise might have missed
Chicago, IL (PRWEB) October 08, 2012
The Coupons App, a prominent and popular smart phone based coupon and shopping tool, has crossed 10 million downloads this year and has turned out to be one of the most sought after shopping application for mobile phones. The Coupons App is completely free to download and use, and is compatible with a wide range of mobile phones including iPhone, iPad and Android phones. It is currently seated as one of the top rated applications on both iTunes and Google Play app stores, with tens of thousands of people downloading and using the application everyday.
The Coupons App is an ideal companion for holiday shoppers, seamlessly connecting potential customers with local or national service providers. Additionally, this mobile marketing tool has time and again proven itself to be a reliable indicator to merchants what's hot amongst competing daily deal offerings. It comes as no surprise that with the help of The Coupons App, consumers readily familiarize with shopping deals, restaurants, and gas stations quickly and intuitively without the forgetfulness surrounding paper counterparts.
Finding out about the latest deals and offers is no longer an inconvenience, as users have access to this wealth of information from the comforts of home, on vacation and everywhere in between. Based on recent user feedback, for many using the shopping application regularly has proven to save both time and energy previously spent sorting and searching coupon savings.
"I am simply amazed by The Coupons App." declares a recent app user. "It acts as a one stop solution for all my gift shopping needs plus you really get to hear about deals and offers available near me with absolute ease that I otherwise might have missed."