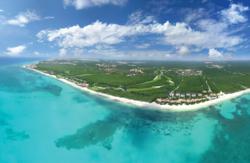 These new amenities will provide another dimension to our guests' stay at Mayakoba, and deliver some of the preeminent ecological experiences in the Riviera Maya.
Riviera Maya, Mexico (PRWEB) October 09, 2012
Mayakoba Resort announces the launch of several new initiatives to further integrate the Riviera Maya ultra-luxury eco resort, comprising three hotels from the world's most recognizable brands – Rosewood, Banyan Tree and Fairmont, with an Andaz scheduled to open in 2014. From an eco-tour ferry service to nature walking trails and a resourceful smart device app, the new additions will offer guests of each hotel convenient ways to fully immerse themselves in all that Mayakoba has to offer.
Just launched is the Mayakoba Connection ferry, a singular way for guests to experience the ecological diversity of the Yucatan. Called the "Venice of Riviera Maya" because of its unique river system linking all three properties, Mayakoba's nine miles of crystal clear waterways meander through scenic mangrove and rainforest landscapes before flowing out to the Caribbean. With the Mayakoba Connection, guests can now easily travel between the three hotels on electric boats to explore a variety of beach clubs and restaurants, all the while taking in an incredible array of more than 200 species of tropical flora and fauna.
Guests can channel their inner bird-watcher to spot all manners of exotic and rare waterfowl – including Boat-Billed Heron, Ospreys, Roseate Spoonbills and Wood Storks – as well as iguanas, fish, monkeys and even crocodiles. The Mayakoba Connection ferry will make six stops on a circuit through the resort, including each hotel's lobby and beach restaurant.
In addition to the Mayakoba Connection ferry, the Mayakoba Nature Trail will offer guests another way to get up close with the environmental wonderland. Winding its way through the rainforest, the trail will provide a natural pathway for guests to further enjoy the varied habitat by bicycle or on foot. The Nature Trail is due to open December 2012 and will be accessible from all of Mayakoba's hotels and the El Camaleon PGA Tour Golf Course.
"We hope that these new amenities will provide another dimension to our guests' stay at Mayakoba, and deliver some of the preeminent ecological experiences in the Riviera Maya," said Agustin Sarasola, General Manager of OHL Desarrollos, the developer of Mayakoba. "Mayakoba is built on a firm belief that the whole is much greater than the sum of its parts, and we want to encourage guests to enjoy the many diverse offerings within our secure community. Whether staying at Fairmont, Rosewood or Banyan Tree, the facilities of all three will be only a boat – or bike – ride away."
Also launching this month, the new Mayakoba smart device app will add an extra level of convenience to these amenities. Guests can download to access menus and reservation details from all of the hotels' restaurants and beach clubs, making dinner plans as easy as clicking a button.
About MAYAKOBA
Located in the Riviera Maya just 15 minutes from Playa del Carmen, Mayakoba is an eco-friendly resort development on the shores of the Caribbean in Mexico. Surrounded by natural beauty in its lagoons, pools and sugar sand beaches, Mayakoba is home to three luxury hotels – Fairmont Mayakoba, Rosewood Mayakoba and Banyan Tree Mayakoba. The resort also offers a spectacular 18-hole golf course designed by renowned architect and PGA legend Greg Norman. The signature course is home to the Mayakoba Golf Classic – the only PGA TOUR event in Mexico. Six miles of freshwater lagoons that lead to a white sand beach with turquoise waters on the Caribbean Sea connect all of the hotels. Guests are transported in boats via canals made exclusively for the resort, which have led to Mayakoba being called "the Venice of the Yucatan." Mayakoba is an eco-conscious development and has implemented significant practices to encourage sustainability. For more information, please visit http://www.mayakoba.com.