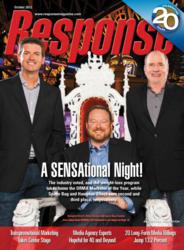 Manhattan Beach, CA (PRWEB) October 10, 2012
SENSA® Products, LLC was recently presented with the Direct Response Marketing Alliance's (DRMA) "Marketer of the Year Award," one of the most prestigious awards in the direct response industry. SENSA® was recognized as "Marketer of the Year" based on the company's outstanding performance, accomplishments and innovation in the direct response industry.
SENSA® has creatively expanded its campaigns beyond traditional direct-to-consumer, enabling the company to rapidly grow and succeed. The award acknowledged the multi-channel success SENSA® has achieved in direct response, driving high performance campaigns across television, radio, print and internet. The company remains one of the most prominent online advertisers in the weight-loss industry, with over 8 billion digital impressions and more than 250,000 Facebook fans. In addition, SENSA® has successfully launched into new retail channels, while continuing to outperform expectations. The company's success is the result of a well-executed, multi-channel strategy that utilized the strengths of SENSA®'s internal team and leveraged service providers, ranging from technical services to media agencies.
"SENSA® is truly honored to be recognized by our peers with such a prestigious award," said Jeff Campbell, Executive Vice President, SENSA® Products, LLC. "The company is constantly exploring various channels to help grow its presence, and we look forward to creatively expanding our reach even further."
The fourth annual DRMA Marketer of the Year Award competition included 17 nominees, each able to highlight three products or campaigns during the past 12 months. The award, hosted by DRMA and Response Magazine, was voted on by an online ballot sent to leaders throughout the direct response industry, including direct response marketers, suppliers, vendors, and service providers.
About the SENSA® Weight-Loss System
SENSA® is a leading weight-loss tool and lifestyle brand that has helped hundreds of thousands of people lose millions of pounds without restrictive dieting, stimulants or pills. Based on 25 years of research and testing from Dr. Alan Hirsch, this revolutionary weight-loss system uses science and your sense of smell to help you lose weight. Doctor formulated, SENSA® has an average weight loss of 30.5 pounds in six months. No other weight-loss product has such extraordinary results. For more information or to order the SENSA® Weight-Loss System, visit http://www.trysensa.com or http://www.facebook.com/Sensa.