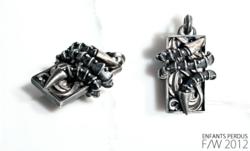 Each piece is painstakingly handmade, choosing to use traditional processes employed by craftsmen for hundreds of years.
New York City, New York (PRWEB) October 09, 2012
Quatre Tsien's introspective Riemann Collection for Enfants Perdus is inspired by its namesake, mathematician Bernhard Riemann, taking your hand as it descends into a romantic and sensual journey to model the natural physical world with mathematical forms. Rigid geometry of shapes is contrasted with the fluid dynamicism of organic life in these jewels crafted from 18 karat gold, sterling silver, and precious gems.
Taking a starkly human approach, each piece of the collection is painstakingly handmade, avoiding the use of computer-assisted construction and choosing instead to use traditional processes employed by craftsmen for hundreds of years. The "geometrically perfect" pieces are viewed through a natural lens, contrasting their perfection with very human nuances and distinctions imparted during their construction.
The pieces of the Riemann Collection employ the ideas of romanticism in each design, reflecting a world that exhibits the ultimate natural law – the struggle for survival, and how man, in a quest for structure and society, strives to maintain one's own humanity within this environment. The strong and elegant balance between these designer jewelry pieces reflects both male and female characteristics and can be integrated into a individual wearer's creative concept.
The pieces retail starting at $280 USD to $480 USD, and will be available online at Enfants Perdus' online shop, as well as select boutiques worldwide.
Link to eLookbook
About Enfants Perdus
Our jewelry heirlooms are handmade, crafted from the tension between sterling silver and rich 18 karat gold, and united with rare objects – diamonds, black pearls, and precious gemstones.
A weathering patina is then hand-applied through 5-10 progressive layers and washes, imparting humanistic qualities to the noble metals. These hard, yet malleable materials evolve alongside the experiences of the piece's wearer. The pieces change and glow with time.
Evolution is life. Stasis is death.
Enfants Perdus has received international acclaim from publications such as Allure Korea, Gestalten, and SAS Japan.