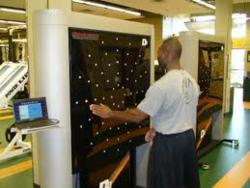 Most people don't think to train the eyes for their sport, but in most instances, reaction time is based on how you respond to things you see, enabling you to make quick decisions during competition
Bellevue, WA (PRWEB) October 09, 2012
Sports Reaction Center is launching a new Sports Vision program to help improve the peripheral vision of their clients and patients' with Eye Port® technology and the D2 Training Board. The program enhances an athletes' ability to process visual information faster and more accurately, which improves decision-making abilities, physical reaction times and accuracy, particularly under stressful situations.
Most reaction mistakes, either athletic or otherwise, can be attributed to poor dynamic skills or errors caused by:
● A lack of information or improperly read visual cues;
● Poorly-developed motor skills, especially eye-hand coordination;
● Poorly timed responses;
● Poor concentration; and
● Poor peripheral awareness.
The Dynavision D2 Board system is widely used by athletes of all levels, both professional and amateur, in all sports for reactive/cognitive training and testing. The D2 has a range of features designed to train the athlete for reactive and proactive visual responses. It also provides the athlete with the objective feedback which enables analysis of performance and measurement of improvement.
"Most people don't think to train the eyes for their sport, but in most instances, reaction time is based on how you respond to things you see, enabling you to make quick decisions during competition," commented Neil Chasan, owner of Sports Reaction Center. "The Dynavision D2 board and the Eye Port system are essential training tools for competitive athletes. Our Sports Vision program will take them to the 'next level'."
D2 technology is also effective in helping athletes recover from an injury. For example, after suffering a concussion, elite rugby player Tyler Perez was advised by Chasan to work on his reaction times on the D2 board to get back to his regular performance level. Perez was tested on the machine to see reaction times by tapping lights that appear and disappear after a short period of time while adding numbers together or memorizing them on the board.
Continuing his treatment weekly for four weeks, Perez was able to improve his reaction times by triggering his nervous system, forcing the use of his brain to react quickly to the combinations that the D2 threw at him. Tyler has experienced significant physical improvements both on and off the field such that his performance is dramatically enhanced over his pre-injury baseline by his report.
Chasan founded the SRC in 1997 after he graduated from the University of Washington's physical therapy program in 1982 and remained in Seattle. Named the Best Rehab experience for their geographical region by Competitor Magazine, SRC's reputation is renowned, attracting athletes from around the country, thanks to tools such as the Alter-G and Optojump. The expertise of Chasan and his team of physical therapists, along with the company's cutting edge technology and use of devices such as the D2, attract athletes of all levels and ages.
For a free trial on the D2 board, or for more information on the latest program, please visit http://www.srcpt.com.
About the Sports Reaction Center
Based in Bellevue, Washington and attracting athletes of all levels from the Bellevue, Seattle, Kirkland and Redmond areas – and around the United States – the Sports Reaction Center(SRC) was founded by Neil Chasan in 1997. SRC performs sports physical therapy services that incorporate innovative technology such as Dynavision, Optojump and the NASA-developed Alter-G. The clinic additionally offers concussion management and biomechanical assessment. SRC's clients include multiple athletes who have qualified for the Olympic trials in Track and Field, as well as marathoner Mike Sayenko, Olympic hurdler Virginia Powell, and NFL, NBA and MLB players. The clinic also works with area organizations like Club Northwest, VO2 Multisports and the Seattle Rugby Club. A graduate of the University of Washington's physical therapy program in 1982, Chasan is a consultant to the U.S. Olympic Training Center, U.S. Rugby Sports Medicine, and Alter G. Neil is the author of the book Total Conditioning for Golfers, and the creator of the video "The Swing Reaction System". Neil also published "Pain Free Back", an iPhone application. A clinical faculty member of the University of Washington's physical therapy program since 1990, Chasan teaches and consults with physical therapists around the world.