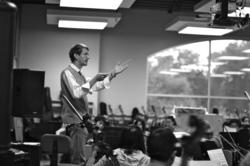 We are very excited to get our season underway this year, showcasing the talents of some of the finest young musicians in the region.
-- Kenneth Thompson
Toledo, OH (PRWEB) October 12, 2012
The Toledo Symphony Youth Orchestra, currently in its 63rd year, will perform its first concert Sunday, October 21st at 4PM in the Toledo Museum of Art Peristyle. This concert will feature the Philharmonic, Symphonic, and Concert Orchestras, under the direction of Ken Thompson, Wasim Hawary, and Robert Mirakian.
The TSYO currently serves 200 students from over 40 schools in Northwest Ohio and Southeast Michigan. They will perform works by Sibelius, Berlioz, Rimsky-Korsakov, Handel, and Mendelssohn, as well contemporary composers Ben Taylor and Daniel Montoya Jr. The concert is free and open to the public.
"We are very excited to get our season underway this year, showcasing the talents of some of the finest young musicians in the region. This particular concert features two world premiere performances, along with well known compositions by Rimsky-Korsakov and Sibelius. All of the students have been working very hard, and have already collaborated with their professional colleagues in the Toledo Symphony to help prepare for this performance," said Kenneth Thompson, conductor.
For more information, please call Bri Michalko, TSYO Coordinator, at 419-418-0050.