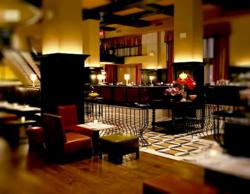 New York, NY (PRWEB) October 09, 2012
Honest Cooking Editor in Chief and restaurant reviewer Kalle Bergman is not impressed with Mario Batali's Michelin starred flagship restaurant Del Posto Ristorante in New York City. In a review yesterday on Honest Cooking, titled "Skip to the Desserts at Del Posto" he calls the food at the restaurant "unsophisticated", and only awards the otherwise praised, exclusive establishment three stars out of six.
He starts by writing "I desperately want to love Del Posto. From the ridiculously gorgeous (or is it gorgeously ridiculous – I don't know) interior, through the very talented bartenders, to the friendly and efficient service – it is a restaurant that I really want to want to come back to. In fact, it is a restaurant I want to live in. Unfortunately, restaurants are generally considered places to eat, not to live, and the eating part is where Del Posto comes up short."
He goes on to wonder why a traditional Italian tasting menu consists of French salads and Asian noodle dishes, and calls a beef served with beefsteak tomato, tater tots and mustard greens "an upscale steakhouse dish."
According to Mr Bergman, there is good food at Del Posto. Very good food actually. "Just skip the first few pages of the menu and go straight to the desserts, where Pastry Chef Brooks Headley serves creative and utterly delicious sweet and savory plates of goodness... The only problem is that the desserts have nothing to do with the rest of the food at Del Posto. In fact, they taste, look and feel like they come from a completely different restaurant. A much better one."
Read the full review here.
The Honest Cooking Rating System
****** Six stars – Cooking on the highest international level. Service is impeccable and beverages are perfectly paired with the food. A world class dining experience.
***** Five stars – Represents cooking on an international level. Dishes look and taste great and display a personal touch. Service is highly professional making it a dining destination that is really worth a detour.
**** Four stars – This represents very good cooking with ambitions. Solid preparation of all dishes, only very few flaws. A restaurant that Honest Cooking recommends a visit to.
*** Three stars – Represents good cooking, and an above average restaurant, but without the more personal touches and craftsmanship that is demanded of higher ratings.
** Two stars – Represents average cooking. The restaurant doesn't reach a level where the food stands out as anything special, and / or service / ambience has flaws.

One star – Represents sub-par cooking and service. A restaurant to stay away from.