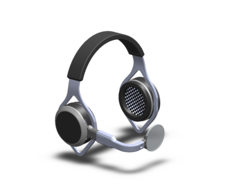 Better, faster control of your world isn't science fiction. It's reality right now, thanks to EG. Fly a drone, move a robot arm or gun turret, perform surgery, or drive a car with your eyes. EG can let you do that
Lubbock, TX (PRWEB) October 10, 2012
If you want to fly a drone, move a robot arm or gun turret, perform surgery, or drive a car with your eyes, Grinbath's EG can let you do that.
"After more than a year of experimentation and development, we created EG to be a mobile, wearable, wireless eye control device," said Dr. Brian Still, Grinbath CEO. "You can wear and use EG wherever you need or want to go. It's lightweight, fits any user, and makes use of hot mirror technology so that the user's vision isn't obstructed. Headphones for sound, along with a built-in microphone, also mean it's possible for EG to be a communicative platform as well. Obviously, as we demonstrated at our recent TEDx talk, the possibilities from all of this are endless."
EG also changes the gamer's experience. Through a novel combination of head and eye movement to enhance the game playing experience, EG allows gamers to use their heads to look and their eyes to aim on the screen, dramatically speeding up their ability to move through the game environment. At present hand controls are still used for firing or other actions, but the need for complicated controls like this could be reduced or eliminated if EG was introduced into a gaming platform.
"Certainly it means that how games are played, if not also built, can change for the better," according to Dr. Nathan Jahnke, lead Grinbath software developer. "First person player games, even multi-player games, will be able to take on a different look and feel with EG," said Jahnke. "EG allows for more natural interaction inside the game, and the new speed and control it introduces to the process means that it's possible going forward for game developers to create new games that take advantage of the head and eye control EG has introduced."
Grinbath's plan is not to sell EG directly to consumers, focusing instead on creating customized platforms for military, gaming, and other interested partners that want to take advantage of the groundbreaking technology. "The fact is we're not the first company to experiment with eye control technologies," said Dr. Still. "However, we are the first to take on successfully the challenge of giving control to the user of objects on the screen and off of it, and that transforms how people can interact with (and augment) their world around them."
Interestingly, EG also allows you to see everything the users are seeing as they see it. Because of this real-time data capability, EG not only provides control to the wearer, but the potential for control exists for those who can see what the wearer sees, as they see it. In addition, those interested in training, from athletic coaches to driving and flight instructors, or monitoring, such as law enforcement or military organizations, can make use of EG to watch live what EG users are experiencing as they see it. The possibility even exists not only for real time data download but also upload, so that EG wearers can receive as well as send video as well as other feedback as it happens.
Better, faster control of your world isn't science fiction. It's reality right now. You can see Grinbath EG in action by watching the video of Dr. Still's recent TEDx talk where he and his team fly a drone and play a first person shooter game with their eyes.