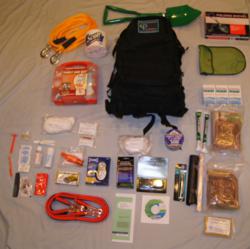 The safest place to be, during a disaster, is usually your home. however, if you home is not safe the the next best place is a local emergency evacuation shelter.
Newmarket, NH (PRWEB) October 09, 2012
PHI Management Solutions announced new additions to their line of Disaster Preparedness Kits in preparation for the winter storm season. Jim Moody, company Vice President, said that the single biggest change was to add battery jumper cables and a tow rope to the kit. This gives you a kit that is great for the home but truly has everything in it you need if you have to evacuate your house.
Moody added that the base kit has always had the basic emergency items that you need to either shelter in place or to take with you to an evacuation shelter. It is that trip to safe shelter that concerned us. Moody said that the design team felt that the best solution was not to offer a car specific kit but rather to add the necessary items to the standard kit.
Gil Colon, Senior Vice-President, this is a key difference between us and other companies. We do not sell survival kits we sale disaster preparedness kits. We feel that the safest place for most people to be, in the event of a disaster, is in their house. If that is not a safe option then evacuation to safety is the next best option. And, if you become stranded in your car, then staying with your car is the safest option plus it is easier for emergency crews to find you.
In addition to their standard disaster preparedness kits, PHI also produces emergency kits for both dogs and cats. April Begosh, president of Healthy Pets New Hampshire, commented that pets are often the most heartbreaking tragedy coming out of a disaster. All too often, she said, emergency planners plan for people but then forget about pets. And she went on; pets are considered by many to be part of the family and consequently need to be part of the emergency evacuation equation. Ralph Huber, President of PHI, added that he learned first hand about the importance of planning for pets while assigned to the National Guard, when he was tasked with standing up emergency shelters during the New England Ice Storm of 2008.
I initially did not plan to accept pets into our shelters, he said. What I learned, however, is that many senior citizens simply would not leave their homes and go to safety, if they could not take their pets with them. So, we changed our plan and accepted pets. This resulted in logistical challenges and we were hard pressed to get all of the essentials ready to go let alone items to make animals more comfortable in difficult circumstances.
PHI's p et emergency kits are vacuum packed and have a blanket, toy, food, water, bowls, leashes, and other items that you should have for your pet during an emergency. These are all items that may not be available at an evacuation destination so it is best to bring them. And because the kits are vacuumed packed, they are compact and great to keep in recreational vehicles for emergencies while on vacation.
PHI is most widely known for their line of Zombie Apocalypse Survival Kits. Huber said that these kits catch people's attention where ever they are on display. We got our inspiration from the Centers for Disease control and their Zombie Apocalypse Blog. He added that they designed the kit to be rugged and packed it in a military style tactical bag and added some survival specific items specific to the zombie kit that are not found in regular Disaster Preparedness Kits. Huber went on to say, that the Zombie Kits contain all of the items that are in the Disaster Preparedness Kits. When asked who buys these kits, Huber said, that it is generally people who want to be prepared. They are also popular for parents that have kids in college. They want their kids to be prepared… but their kids want to be cool. The zombie kit does both.
PHI Management Solutions, Emergency Management Division, offers many different home and institutional products for emergency planning. They also have free downloads and information links designed to inform and assist individuals, families, organizations and businesses prepare for emergencies. Our team is composed primarily of veterans with over 90 years of combined service. Each member of the team has proven themselves through combat command and has extensive experience in disaster response and planning. Team members have commanded response forces and/or participated in several disaster responses to include the 2005 crash of a civilian airliner in Afghanistan, Hurricane Katrina 2005, Southwest New Hampshire Flooding in 2005, New Hampshire Statewide flooding in 2006, Epsom NH tornado response in 2007, the 2008 New England Ice Storm, 2009 Anthrax Response in Durham, NH, the 2010 Wind Storm, Hurricane Irene in 2011, and the October 2011 New England Snow Storm.