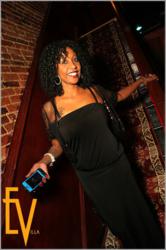 Our Mission is to Improve Baltimore Nightlife
Baltimore, Maryland (PRWEB) October 09, 2012
Eden's Lounge in Baltimore has been a leader in Baltimore nightlife for over seven years. Helen Metaferia seeks to add more live music, dubstep, drum and base, and house music shows to Eden's Lounge to an otherwise hip hop based weekly lineup. She is working closely with promoter Chris Keating of It's Casual Baltimore to achieve her goal.
The first step in achieving her goal was bringing getting LTJ Bukem to stop by and rock the Eden's Lounge crowd before he goes on his US Tour. To add to this huge show, DRFAMEUS, of the Disco Biscuits, performed a live drum set that was incredible.
The reviews from the fans of LTJ Bukem and DRFAMEUS were fantastic. Most had never been to Eden's Lounge in Baltimore and some are making comparisons to U Street Music Hall in Washington DC. "I love U street Music Hall," says owner Helen Metaferia, "They are a class act and they give me someone to base our business model."
Helen Metaferia and Chris Keating are excited about the next DJ, Kraddy, coming to Eden's Lounge on October 20th. Kraddy will rock and exciting mix of Dubstep and Hip Hop. Other acts on the bill are DJs Mux Mool and Neumann.
Helen Metaferia
Making her journey from Ethiopia, Helen has always been an entrepreneur at heart. She now owns two beautiful venues in Midtown Baltimore. Helen is known as a party socialite in the Washington DC & Baltimore metro area. Her dream of owning nightclubs is now happening. She now has her eyes set on designing commercial and residential properties.
Eden's Lounge
Located in the heart of Mt. Vernon, Midtown Baltimore, Eden's Lounge has been leading Baltimore nightlife for over seven years. Eden's Lounge boasts very tasty appetizers and entrees, including Ethiopian entrees. Eden's Lounge has also become known for it's happy hours and nightlife. Attracting diners and party goers from all over the world, Eden's Lounge has become internationally known as the place to be if you are looking for good food, cocktails, and entertainment.
E-Villa
Located int he heart of Mt. Vernon, Midtown Baltimore, the new E-Villa has everyone in Baltimore talking. E-Villa in its infant stages has attracted national and international deejay talent. The vibe in E-Villa is like no other in Baltimore. E-Villa boasts one of the best sound systems in Baltimore. E-Villa is also one of the few venues in willing stick to the underground party scene. Last but not least, the food, cocktails, and ambiance are unmatched in Baltimore.
# # #
If you'd like more information about this topic, contact Helen Metaferia at he(at)edenslounge(dot)com or go to http://www.edenslounge.com or http://www.e-villa.us.