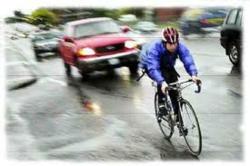 The more people, both bicyclists and motorists, for whom we can prevent accidents, the safer and more secure our California residents will be.
Sacramento, CA (PRWEB) October 09, 2012
Governor Jerry Brown exercised veto power for the second time in a year to stop a bill sponsored by State Senator Alan Lowenthal. The bill would require motorists to give cyclists at least three feet of clearance when passing while traveling in the same lane and direction.
In October of 2011, Brown was advised by the California Highway Patrol that the original wording of the bill which required motorists to slow down to 15 miles per hour if they could not give three feet of clearance might lead to more accidents. He vetoed the legislation as a result.
The legislators tried again. This time, the bill presented to Gov. Brown stated, in part, that motorists should "slow down to a speed that is reasonable . . . and pass only when it is safe to do so."
Governor Brown gave a different reason for his second veto. He objected to language that stated that motorists could cross a double yellow line in order to give adequate passing room around a cyclist. In a memo, the governor explained that crossing the line was inherently dangerous and would result in a lawsuit in which the state was likely to be sued.
Lowenthal will end his term in January. The California Bicycle Coalition is urging the public on its website to email the governor regarding the passage of some version of the bill.
Basis for the Veto
About 20 states currently have bicycle-passing laws on the books. However, Governor Brown did state concerns with the wording of the bill as it stands. John Demas of Demas Law Group points out: "If a state passes a law that deliberately puts someone in danger, that person or the person's survivors may have the right to sue if there is an accident."
Governor Brown stated in his memorandum on the veto that he was concerned about possible future lawsuits from persons injured by vehicles crossing the yellow line to avoid cyclists.
The California Bicycle Coalition responded in part: "We're deeply disappointed in the Governor's action, not least because of the assurances he expressed in his veto of SB 910 and the support for a 3-foot passing requirement he personally expressed to Sen. Lowenthal after last year's veto."
About Demas Law Group, Sacramento accident attorney
The Demas Law Group, P.C., represents people who have been involved in personal injury accident or their survivors if the victim dies. Demas Law Group takes cases involving automobile collisions, pedestrian accident cases, DUI-related injuries, product liability injuries, medical malpractice cases, defective medication lawsuits, nursing home neglect and abuse cases, and wrongful death.
Attribute: Long Beach Business Journal, "Gov. Brown Vetoes Bicycle Safety Law—Again," Joshua H. Silavent, October 2, 2012.
The California Bicycle Coalition, http://www.calbike.org