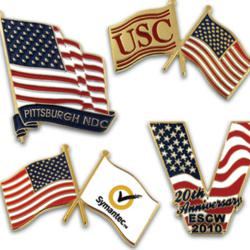 A simple flag pin is out of style, the new trend is to customize.
(PRWEB) October 10, 2012
Custom Pins are now a hot topic online after millions of debate viewers noticed Republican Presidential candidate Mit Romney wearing a custom made American flag pin with the Secret Service star logo emblazoned on the flags stripes. At first glance it is hard to recognize what is on the flag but in true internet fashion it only took a few hours before the web was ablaze with blown up images of commentary clearly showing the Secret Service star. It has been reported that the lapel pin was custom made - for decorative purposes only, not security clearance – and was a gift to Romney from the Secret Service.
PinMart, a manufacturer and online retailer of custom pins, notes that soon after the debate inquiries about making custom flag pins increased 10 fold. "Customers are now referring to Romney's Secret Service flag pin and wanting to know how we can make a similar pin for them with their logo on it." Much has been made about what is on Romney's pin, the size of the pin, and if it is appropriate to decorate the American flag with a logo, however, the real news seems to be: A simple flag pin is out of style, the new trend is to customize. Paul Ryan often wears a flag pin with a GOP elephant; Newt Gingrich wore a flag pin representing George Washington's campaign flag when he was commander-in-chief of the American revolutionary army; and who can forget Sara Palin's rhinestone flag pin? Making custom pins is not a new or rare event; one only has to perform a simple internet search to find a seemingly endless list of Custom Lapel Pin companies that offer many different custom pin offerings. What is new and rare is the online chatter regarding custom pins.
PinMart, Inc. is a privately held company located in Mount Prospect Illinois, a suburb of Chicago, specializing in the design and manufacture of custom lapel pins and emblematic jewelry, both domestically and abroad. In 1999 PinMart was a pioneer on the web with one of the first ecommerce websites in its industry. Since that time PinMart has taken advantage of its well positioned internet presence and now boast a client list that includes over 300 of the Fortune 500 companies.