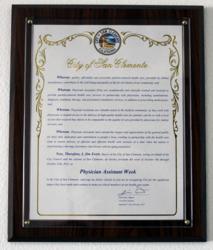 It's an honor to promote the PA profession. PA Week is an important time to recognize the critical role of PAs working in all medical and surgical specialties.
San Clemente, CA (PRWEB) October 08, 2012
Medelita® is proud to announce that October 6th to October 12th has officially been declared Physician Assistant Week in San Clemente, California. At a meeting with San Clemente Mayor Jim Evert and the San Clemente City Council, Lara Francisco, PA-C and Founder of Medelita, commemorated the occasion by noting, "It's an honor to promote the PA profession. PA Week is an important time to recognize the critical role of PAs working in all medical and surgical specialties." Mayor Evert, whose own daughter works in medicine, emphasized the importance of PAs in the city's numerous public and private healthcare offices and facilities. He also commended the achievement of Lara Francisco, PA-C for founding a steadily growing business located in one of San Clemente's burgeoning office and commercial centers that directly contributes to the quality of professional life for her colleagues in the PA profession. In recognition, Francisco was presented with a plaque affirming the importance of PAs within the community of San Clemente.
The purpose of Physician Assistant Week is to raise awareness of the PA profession and its increasingly vital role in improving access to medical treatment, providing positive outcomes, and reducing the cost of medical care. California, with the second highest number of practicing, licensed PAs among all 50 states, an estimated 6,700+, has embraced the profession – and with good reason. PAs collaborate with physicians in a team-based approach that's transforming healthcare. Physician assistants are academically and clinically trained and licensed to provide patient-centered health care services including examinations, diagnosis, treatment, therapy, and preventive healthcare services, in addition to prescribing medications. These teams have made it possible to provide a quality of care considered, according to numerous studies, equal to care provided by physicians for comparable services, at a lower cost.
Medelita, based in Southern California, has had a special affinity toward PAs since its founding in 2008. That relationship is attributable, in part, to the important segment of the company's customer base that PAs represent. An even more cogent factor, however, is the fact that the founder of Medelita, Lara Francisco PA-C, is a PA herself. In fact, it was her 10 years of experience as a PA that inspired her to launch Medelita – in recognition of a dire need to improve the fashion, function, and fit of lab coats and scrubs for all clinicians, including physician assistants.
A confluence of events has combined to make the physician/physician assistant team based approach to health care a welcome solution to a diverse set of challenges. Personal and governmental budgets are under extraordinary stress. A record number of individuals are dependent, for financial reasons, on the government and emergency rooms for medical services. An aging population has increased the need for preventive care as well as the demand for primary care treatment. All this is occurring at a time when there's a growing shortage of primary care physicians. In this crisis situation, inclusion of physician assistants on the medical team has enabled private medical practices and hospitals to meet increasing patient demand in a more cost effective manner.
Given these trends, it should come as no surprise that the fastest growing segment of the economy has been and is projected to continue to be health care. One of the fastest growing occupations within health care is that of physician assistant. In fact, nationally, the number of physician assistants more than doubled between 2000 and 2010, to 83,000+. For all the reasons cited above, the Bureau of Labor Statistics predicts that PAs will be the second fastest growing profession in the current decade. Consequently, the PA profession is not only important because of the need it fills within the health care community, it also represents one of the most promising career opportunities in an economy challenged with high unemployment. With average annual incomes exceeding $90,000, it is also one of the most lucrative opportunities available.