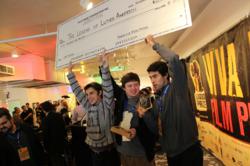 'We are hoping that we might possibly be on our way to becoming one of the most important film events in the country,' said Kallenberg
Shreveport, LA (PRWEB) October 09, 2012
In front of a standing room only crowd of filmmakers, film industry and an enthusiastic audience, Louisiana Film Prize Executive Director Gregory Kallenberg and his team announced the Grand Prize Winner of the inaugural Louisiana Film Prize competition on Sunday, Oct. 7. "The Legend of Luther Anderson," directed by Thomas Woodruff, Noah Scruggs and Chris Armand, was awarded a $50,000 cash grand prize, one of the world's largest cash prizes for a short film, at Sunday's awards ceremony. The film was one of 20 finalists in competition at the Louisiana Film Prize Festival Weekend, Oct. 5-7, in Shreveport, LA.
The Louisiana Film Prize invited filmmakers from all over the world to create and present a short film under one condition: It must be shot in the Shreveport-Bossier area.
"I'm a filmmaker, have gone to many festivals, and I've never seen energy and spirit like I saw at the Louisiana Film Prize," said Kallenberg. "The competing filmmakers really took over the entire city and embraced an audience that came from all over the U.S. to be a part of this."'
"The Legend of Luther Anderson" is a Western comedy about a set of boots that transforms Luther Anderson, a meek cowboy, into a hero and an instant legend. As Luther blazes a trail across the frontier, his evil nemesis is in hot pursuit after the magical cowboy boots. In the end, the two men stand tall in a showdown to the death.
The grand prize winner was determined by a unique system based on the votes of a panel of expert judges combined with the votes of the festival audience. This year's jury included journalist/author Hank Stuever (Washington Post), journalist James Hibberd (Entertainment Weekly), journalist Alison Bailes (More), journalist Kim Voynar (MovieCityNews), Tara McPherson (USC School of Cinematic Arts) and Brandon Oldenburg (Academy Award-winning producer of the animated short "The Fantastic Flying Books of Mr. Morris Lessmore").
The Louisiana Film Prize also awarded the inaugural round of "Founder's Circle" Film Grants. These $3,000 grants enable a filmmaker to be reimbursed for production funds used for projects for the 2013 Louisiana Film Prize. The Founder's Circle Awards were given to three films: "This is a Microphone" (directed by Philip Jordan Brooks), "Sock Monkey" (directed by Robert Montgomery) and "The Legend of Luther Anderson."
Announced in March 2012, the Louisiana Film Prize received more than 80 registered submissions. The participating films utilized more than 650 people in cast and crew and injected approximately $2 million into the regional economy through the payment of cast, crew, food, lodging and equipment rental expenses.
"We are already gearing up for next year. We have raised the prize money and are planning our roll-out. With such an incredible first year, we are hoping that we might possibly be on our way to becoming one of the most important film events in the country," said Kallenberg.
Kallenberg's latest project, the Rational Middle Energy Series, opened this year's Aspen Ideas Festival in Aspen, Colorado. He also directed "Haynesville: A Nation's Hunt for An Energy Future," which premiered at the SXSW Film Festival.
Visit http://www.lafilmprize.com to learn more information about the Louisiana Film Prize contest and festival.