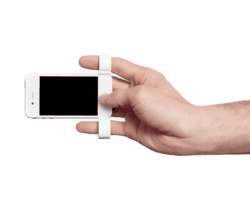 The AirClip is a great device to help hold the iPhone steady when taking amazing panoramic photos with the iPhone!
Chicago, IL (PRWEB) October 10, 2012
One of the amazing new features that Apple has added to iOS 6 is the ability to shoot panoramic photos with the iPhone 4S or iPhone 5. Unfortunately, the problem is that this feature requires the user to hold the iPhone incredibly steady when shooting the photo-which can be harder than it looks.
Enter The AirClipⓇ! A new steady-cam mobile accessory for the iPhone 4, 4S, and 5.
The AirClipⓇ is a one-piece device that steadies your hand while taking video. By helping the user hold the iPhone in a more natural way, The AirClipⓇ makes the iPhone more stable, and therefore greatly improves or eliminates the natural tendency people have to "shake" their phone while filming or taking pictures. If you've ever watch a mobile video on YouTube, then you know how hard it can be to watch due to the shakiness.
By using The AirClipⓇ, users can take pictures in a variety of positions (portrait, landscape, even upside-down) as well as in Panoramic mode. The AirClipⓇ is small, portable, and most importantly affordable.
The AirClipⓇ is for sale on Amazon, as well as AirCast Mobile's own website: http://www.the-airclip.com
The AirClipⓇ is a Patented and Trademarked product. 
For more information, contact: http://www.the-airclip.com
About AirCast Mobile:
AirCast Mobile is an award-winning mobile media company based in Chicago, IL. Originally founded by their CEO, Mike Linhardt, AirCast Mobile has launched numerous products such as the award-winning mobile accessory The AirClipⓇ, the AirCastLiveⓇ video App for iPhone and Android, the JamCastⓇ video App for iPhone, and the soon-to-be launched AirCastLiveⓇ cloud service.
Telephone Number : 708-366-8609
Fax Number : 708-366-8659
Email Address : mike(at)aircastmobile(dot)com
Website Address: http://www.aircastmobile.com