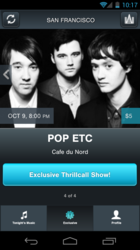 San Francisco, CA (PRWEB) October 09, 2012
SF Music Tech, CA – October 9, 2012 – Thrillcall, a live event discovery service with exclusive daily offers, today announced its free Thrillcall app is now available to Android users. Thrillcall's live music app satisfies spur-of-the-moment music cravings with access to localized "flash" live music offers and show listings. To see the app in action and to download, go to http://getapp.thrillcall.com/, Google Play or the App Store.
Within the Thrillcall App, users can choose their city listing to see two categories, tonight's music and exclusive daily offers. Show listings are available in every major city. Thrillcall has successfully rolled out localized, exclusive offers in Los Angeles (LA), New York City (NYC) and San Francisco (SF), with three more cities coming this fall.
"We've seen incredible demand for the App from Android users and we're thrilled about extending our offering to this growing market," said Matthew Tomaszewicz, co-founder, Thrillcall. "Our customers keep telling us that the Thrillcall App is their go-to source to discover live music on tap in their city tonight. We are excited to extend this benefit to Android users. Ultimately, we want to make live music as accessible, enjoyable and shareable as possible."
Android users will benefit from the strong relationships that Thrillcall has built since launching the iOS Thrillcall app in February 2012. Thrillcall now works with artists, promoters and more than 60 prominent venues across the US, and leading music festivals, such as San Francisco's Noise Pop, New York City's SummerStage and Los Angeles' Sunset Strip Music Festival, to bring the best live music offers. Coupling its strong connections with ticketers, artists and venues, the Thrillcall App compliments its Web live music discovery site, Thrillcall.com, the second largest in the United States.
Key highlights of the new Thrillcall App include:

Exclusive "flash" offers that instantaneously satisfy the need for new and unique live music experiences
In-App purchase of exclusive offers with one simple touch
Comprehensive and accurate list of local concert listings in every major city
Built-in map to view the exact location of scheduled live shows
Sample artist music to decide if you want to go to a show
Social share offers to get friends in on the fun