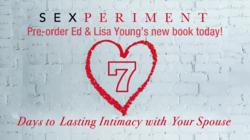 Too many people think 'It can't happen to me' when it comes to falling over the edge and the ledge of sexual temptation. The reality is that it can happen to anyone. We want to help leaders avoid the fall that can cost us all
Grapevine, Texas (PRWEB) October 09, 2012
Fellowship Church pastors Ed Young and Lisa Young are hosting a free, international webinar focused on the topic of sexual purity within churches. As the authors of The New York Times best-selling book "Sexperiment," Ed and Lisa are widely known for their bold approach to sex and what the Bible has to say about it. With more than 30 years of marriage experience and having raised four children, the Youngs have a platform to deliver that message to the masses. Now, they are taking that message to the internet through MyC3Global.com.
Pastor Young says, "Too many people think 'It can't happen to me' when it comes to falling over the edge and the ledge of sexual temptation. The reality is that it can happen to anyone. We want to help leaders avoid the fall that can cost us all."
Ed and Lisa will be delivering the webinar, which allows for questions and interaction with the online audience, at MyC3Global.com Tuesday October 9 at 12 pm CDT. The webinar, which will last a little more than an hour, is open to anyone.
ABOUT:
Ed Young is the founding pastor of Fellowship Church, one of the most attended churches in North America. He is an author and speaker noted for communicating biblical truth in creative and memorable ways. He has a passion for making the complex, simple as he speaks truth to people in ways they can understand and apply to their everyday lives. He has written 14 other books, including The New York Times best-seller Sexperiment.
To learn more about Ed Young and his ministries, visit EdYoung.com.
PRESS CONTACTS:
Andy Boyd
andy.boyd(at)fellowshipchurch(dot)com
972-471-6601
Casey McCann
casey.mccann(at)fellowshipchurch(dot)com
972-471-6609