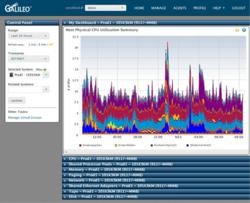 Galileo provides deeper insight into server and storage performance than other tools.
Malvern, PA (PRWEB) October 09, 2012
Galileo Performance Explorer™, a cloud-based performance monitoring tool created by the ATS Group, will demonstrate its versatility for server and storage analysis at the IBM Power Conference from Oct. 29 to Nov. 2, 2012, at Caesars Palace in Las Vegas.
New Galileo feature enhancements include Shared Ethernet Adapter (SEA) and Multiple Shared-Processor Pool (MSPP) support for AIX® and disk service times for Linux®. Additionally, Galileo has added AIX disk statistics for separating read/write service times, transfer sizes, and Input/Output Operations Per Second (IOPS).
Galileo provides deeper insight into server and storage performance than other tools—offering more analytical capabilities for proactive system management—so IT administrators can be more efficient in utilizing existing resources and more accurate at predicting and planning for future capacity needs.
Unlike reactive performance-monitoring tools designed to issue alarms in response to system overloads, Galileo helps to identify and prevent bottlenecks in the first place, with:

Deep perspectives that analyze server/storage operations more than a hundred ways.
Custom insights to create personalized dashboards with the most important metrics.
Immediate benefits from new system insights generated within minutes of installation.
Pinpoint precision of 5-minute granularity, to avoid data skewed by historical summaries.
Virtual frames for viewing consolidated workloads and workgroups.
Convenient cloud access to detailed graphical analysis from any browser window.
A carefree solution that eliminates the need for dedicated monitoring hardware/software.
About Galileo Performance Explorer
Created and supported by ATS Group, Galileo Performance Explorer™ improves IT utilization and capacity planning with convenient cloud-based performance monitoring. Galileo delivers 100+ analytical perspectives of server and storage hardware and virtualization environments for key decision makers. Galileo ensures optimal performance of physical and virtual servers and storage, supporting IBM® AIX®, Linux®, Windows®, and IBM® SVC and Storwize® V7000 storage. Built on an innovative SaaS architecture, Galileo installs in minutes without onsite data or expensive hardware requirements. Automatic collection of real-time data and quick, easy, graphical reporting via an intuitive web interface offers access to custom dashboards with full drilldown into data details—anywhere, anytime. Galileo empowers users from IT administrators to C-level management at mid-size to Fortune 100 companies including leaders in security-sensitive industries.
For a free 30-day trial using your own data, visit http://www.GalileoSuite.com.