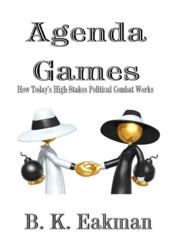 Beverly Eakman has created a powerful and eye-opening primer on how politics really is played.
Washington, D.C. (PRWEB) October 10, 2012
Agenda Games: How Today's High Stakes Political Combat Works by award winning best-selling author Beverly Eakman commands the attention of the PhD, while providing clarity to inform and fascinate the political novice. Health Care, the Budget, National Security, Criminal Justice, Education, 'Green' Energy, Climate Change, Agenda 21, and even Political Campaigns: All are approached as mini-agendas, which Eakman places into the context of a grand political "game" designed to "fundamentally transform" our nation. Eakman shows how each issue is carefully scripted and "sold" to the public via diversion, distraction, and disinformation. Agenda Games was recently released to an eager audience at the "Stop Agenda 21" conference in Wisconsin. The 406-page book is published by Midnight Whistler Publishers.
In his review of AGENDA GAMES, author and columnist Paul Driessen states: "Beverly Eakman has created a powerful and eye-opening primer on how politics really is played…. Her book focuses on nine major legislative arenas that critically impact our election process—and our way of life! With style and humor, Eakman offers a stunning, and sometimes jaw-dropping, view of the lengths to which Big Government elitists will go to overstep constitutional prerogatives and impose their agendas (because they alone know what's really best for us)."
Dr. Jane Orient, M.D. Executive Director of the American Association of Physicians and Surgeons asserts: "As Mrs. Eakman perceives, "health care reform" is not about health but about the agenda. She shows how, in many ways, the ongoing transformation is destroying the spirit of medicine."
Eakman's popular seminar manual, "How To Counter Group Manipulation Tactics: The Techniques of Unethical Consensus-Building Unmasked", is being read by concerned citizens looking to understand how professional provocateurs and "perception managers" work to "take over" meeting agendas, compromise the election process, and skew news reports. Many consider "How To Counter" and "A Common-Sense Platform for the 21st Century" companion books to AGENDA GAMES.
Ms. Eakman's books on education, mental health, privacy issues, and politics are available on Amazon in paperback and Kindle. Individuals can buy books online, for bulk orders contact Midnight Whistler Publishers.
About the Author:
Beverly Eakman (Washington, D.C.) is the author of seven books, a veteran of over 750 nationwide radio and television talk shows, and over 200 speaking engagements. She began enlightening the public with her books on education issues and now is focusing on the political issues facing Americans today. Eakman's publications, lectures, and workshops have helped thousands to counter group manipulation tactics used almost universally against citizens in decision-making settings, such as "visioning" and "consensus building." Her articles on education, mental health, privacy issues, and politics have appeared in such national publications and online news sites as "NewsWithViews", "Education Week", "Education News", "American Daily Herald", "Chronicles Magazine", "The Washington Times", "National Review", "Crisis Magazine", "Vital Speeches of the Day", and "The Washington Post". http://www.BeverlyE.com. "Like" Beverly on Facebook Tel: 301.946.5395.
About Midnight Whistler Publishers (MWP):
Midnight Whistler Publishers is a small independent publisher located in Raleigh, North Carolina. MWP's focus is on thought-provoking nonfiction and fiction manuscripts and helping writers make the transition to eBooks. MWP offers quality, reasonably priced books, and fast delivery using digital printing and print-on-demand (POD) order fulfillment. http://www.MidnightWhistler.com
###