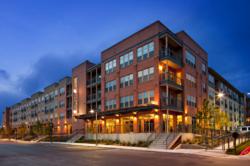 "NRP has built the best development, finance, construction and management team in our industry," said Alan F. Scott, Principal.
Cleveland, OH (PRWEB) October 09, 2012
The National Association of Home Builders (NAHB) awarded The NRP Group LLC with Multifamily Development Firm of the Year Award at the annual Pillars of the Industry Awards program held October 4, 2012. The NAHB Pillars Awards promotes excellence in apartment and condo design, development, marketing and management and are considered the most prestigious and coveted multifamily recognition program of its kind and a showcase of future trends in successful multifamily housing.
NRP Principals, J. David Heller, Alan F. Scott and T. Richard Bailey, were elated with the win. "Winning Multifamily Developer of the Year is truly an honor. We are privileged to have been in such a respected group of finalists, including Gables Residential and Wood Partners," said Heller. "This esteemed award confirms NRP's place as a leader and pioneer in multifamily housing. Our team has worked hard to become a premier organization and be recognized as the best in the industry."
"NRP has built the best development, finance, construction and management team in our
industry. From concept to completion, NRP knows what it takes to successfully develop property, maximize investment returns, control costs and meet partner, associate and resident expectations," said Alan F. Scott. "With each project, key architectural features and expedited timelines are priorities to meet project objectives," said T. Richard Bailey.
The NRP Group also won in the category of Best Leasing Campaign for Cevallos Lofts, San Antonio, TX and was also a finalist in two more categories including Best Garden Apartment and Best Leasing or Sales Center, also for Cevallos Lofts.
The NRP Group LLC: Developer, Builder and Management Company
The NRP Group is a fully integrated, premier multifamily developer, general contractor and property management company dedicated to producing exceptional results for clients and investors.
Founded in September 1995 by Alan F. Scott, T. Richard Bailey and J. David Heller, NRP has developed and constructed over 21,000 residential units in thirteen states over the past 17 years, with a strong presence in Texas, Florida, North Carolina, Ohio, Michigan, Virginia, Indiana, New Mexico, and Arizona. NRP Management is a full-service property manager with over 12,000 luxury, family and senior rental units encompassing nearly 100 properties managed in 11 states.
The NRP Group has over 450 employees nationwide with offices in San Antonio, Houston, Orlando, Raleigh, Cleveland, Detroit, Phoenix, Buffalo and Tampa (opening December 2012). For more information, call (216) 475-8900 or visit http://www.nrpgroup.com.
About NAHB:
The National Association of Home Builders is a Washington-based trade association representing more than 140,000 members involved in remodeling, home building, multifamily construction, property management, subcontracting, design, housing finance, building product manufacturing and other aspects of residential and light commercial construction. NAHB is affiliated with 800 state and local home builders associations around the country. NAHB's builder members will construct about 80 percent of the new housing units projected for this year.
# # #