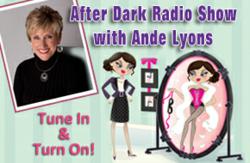 "Our mission at Bring Back Desire is to help women re-ignite their passion and romantic desire… and achieve greater sexual fulfillment, intimacy and personal happiness. After Dark Radio Show helps fulfill that mission!"
Boston, MA (PRWEB) October 10, 2012
Founder and Chief Passion Curator of BringBackDesire.com, Ande Lyons, chats with the best sexperts, relationship experts, and erotic romance authors about how to help women increase intimacy, sensuality and sexual excitement in their lives.
According to Lyons, "After Dark Radio Show provides advice from the best sexperts to help women find solutions to libido and sex life issues. Relationship experts share tips, tools and resources to help with a variety of challenges ranging from communication to infidelity. Erotic romance authors delight and entertain readers as they discuss their sizzling hot stories."
"Women of all ages are benefiting from the wealth of resources shared on After Dark Radio Show, from newlyweds, to married women, to women in their Third Stage of life." Lyons added.
After Dark Radio Show is part of the new online radio format called internet radio. Listeners can listen live while the show streams on the internet, or they can listen at their convenience by downloading an MP3 podcast from iTunes. While riding in a car or commuting by train or even working out on a treadmill, the podcast provides easy access for busy women who want their content in a flexible and convenient format.
Ande Lyons is the Chief Passion Curator of Bring Back Desire – a tasteful website where she shares tips, tools and resources with women who want more intimacy, sensual pleasure and sexual excitement in their lives. Her passion for bringing increased intimacy to others stems from her successful 27 year relationship with her husband.
Lyons summarized what Bring Back Desire is all about: "Our mission at Bring Back Desire is to help women re-ignite their passion and romantic desire… and achieve greater sexual fulfillment, intimacy and personal happiness. After Dark Radio Show helps fulfill that mission!"