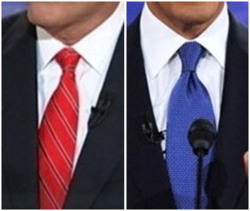 His bold red tie created an air of confidence that was simply second to none. It immediately gave him (Romney) the upper hand.
San Francisco, CA (PRWEB) October 10, 2012
The world's largest resource for anything tie related, Tie-a-Tie.net, gives visitors the chance to dress their presidential candidate with the the ultimate power tie. The site's online poll allows visitors to vote for their favorite necktie to be worn by Obama and Romney for the final Presidential debate. Once enough votes are cast, each candidate will then be shipped his top voted tie - just in time to be worn for the debate on October 22nd.
"Everyone knows how important it is to 'Dress for Success', but how to actually do this is often times easier said than done", says men's fashion critic and necktie aficionado Hendrik Pohl. "In last week's debate we saw two well dressed men, but one of them, Mitt Romney, did a far better job given the situation. His bold red tie created an air of confidence that was simply second to none. It immediately gave him (Romney) the upper hand. Obama's subdued blue tie on the other hand, while without doubt a beautiful tie on its own, was much more timid", explains Pohl.
It is not the first time Pohl has analyzed the psychology of a man's tie color. On his blog he has not only given men an in-depth analysis of the meaning of tie colors, but he has also published multiple papers and articles on what tie colors say about the wearer's psyche.
"I would hate to see Obama loose by a tie, a fear that gave me the idea to create this online poll." The poll presents Democrats and Republicans with 10 classic tie choices and are then asked to vote for the tie they would like to see on their candidate. "I purposely picked out ties that are classic and elegant - pieces that are simply 'president worthy.'" Up for vote are the classic ruby red and royal blue ties that are popular with politicians, but also in the mix are more modern colors such as purple, orange, and lime green. "I wanted to find out what the people would like to see their future president wearing. Do the people like red or blue ties? Are people picking tie colors that are in line with their party's color? Are conservative striped designs preferred over more playful designs such as polka dots or paisley? All these are questions that I am very curious to find answers to," says Pohl.
Votes will be collected until October 18th, and each winning tie will be shipped to Obama and Romney (with courtesy of the poll sponsor Bows'N Ties) on the following day - just in time for the debate on October 22nd. Pohl will also publish a detailed write up of the results.
For more information please visit: http://www.tie-a-tie.net/blog/obama-vs-romney-necktie-vote/