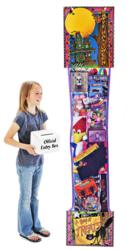 "The huge stocking is a terrific eye catcher and every kid gravitates to it." - Erik Schmidt, Sunny 95 Radio, Columbus, OH
Dallas, TX (PRWEB) October 11, 2012
During the traditional sales lull between Back-to-School and Christmas, retailers and service providers look for great marketing opportunities. Leading promotional products supplier, Bagwell Promotions, offers a Giant Halloween Stocking which is a proven recurrent favorite.
Sunny 95 in Columbus, Ohio (94.7 FM) orders the Giant Halloween Stocking year after year according to Sales Manager Erik Schmidt. "In addition to broadcasting from the zoo, we raffle the 8' stocking stuffed with toys at 'Boo at the Zoo.' The huge stocking is a terrific eye catcher and every kid gravitates to it. We publicize the lucky winners and come away knowing that we have helped attract some of the 90,000 visitors to the zoo during two weeks in October. In addition, we have had good exposure for the radio station and come away with 10,000-15,000 new names for our contact list."
"Sweepstakes promotions are perfect for drawing attention and building participation among customers," agrees John Bagwell of Bagwell Promotions. "The Giant Halloween Stocking is a traffic stopper when it is displayed in a store or pictured online, and it is perfect for building the relationship between the promoter and the public."
Retailers, nonprofits, service providers, and entertainment venues all find that sweepstakes increase visibility, interest, and the number of responses. Whether the goal is to collect prospect information or bring in customers and thereby increase sales, sweepstakes contests generate excitement and build loyalty.
The Giant Halloween Stocking comes with all the materials that the promoter needs to have a successful sweepstakes event. That includes the entry forms and collection box, posters, and suggestions for promoting the sweepstakes and creating a press release. After ordering, everything will be shipped within three days.
More information about Halloween or Fall seasonal promotions can be obtained by calling 1-866-281-8830 or visiting the Bagwell Promotions website. Similar powerful promotional opportunities are available with a December holiday stocking.
About Bagwell Promotions:
Bagwell Promotions, http://www.bagwellpromotions.com , offers over 500,000 imprinted promotional products from 4,100 suppliers such as coffee mugs, pens, flashlights, magnets, ID bracelets, key chains and an assortment of apparel. In addition to Fall Festival and Halloween items, Bagwell Promotions also offers other seasonal promotional products that are perfect for Thanksgiving, Chanukah, and Christmas.
Contact:
John Bagwell
1-866-281-8830