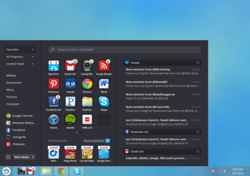 We have decided to build a bridge for users who are transitioning to the new OS
San Diego, California (PRWEB) October 16, 2012
SweetLabs®, Inc. today announced that a new version of Pokki®, which makes the Windows 8 experience better, is available for free download. Pokki for Windows 8 includes the Pokki Menu™, which returns core functionality of the Windows® Start Menu users rely on daily, but presented in a familiar, yet modernized fashion to meet today's use cases and expectations. The company also announced it has surpassed 2 million monthly active users enjoying a modern app experience on a PC, as fun and convenient as a smartphone or tablet.
"On October 26th, Microsoft is foisting its touch-oriented 'Metro' interface on the world and we just don't know if it will work for all the 1.3 billion PC users out there who are heavily reliant on keyboard, mouse and desktop," said Chester Ng, co-founder and CMO at SweetLabs. "We have decided to build a bridge for users who are transitioning to the new OS, by providing Start Menu functionality along with the modern app experience users already love about Pokki. And sorry, I just cannot stop calling it 'Metro.'"
The Pokki Menu provides users a central point to easily find and launch programs and apps, access folders and files, search their computer and the web, manage settings, and shut down. In addition, the Pokki Menu enables Windows 8 users to boot directly to desktop as well as configure or disable hot corners.
Beyond the Start Menu functionality, the Pokki Menu also includes a centralized notification center, a smartphone-like home screen to organize apps, sites, files, folders, an app recommendation service, and one-click access to hundreds of free Pokki apps like Instagrille™ (Instagram®), Gmail®, Facebook®, and Angry Birds®.
There are five (5) primary sections of the new Pokki Menu interface (which is customized depending on Windows versions and user preferences):
● Sidebar (new) – one click access to commonly used desktop programs, web apps, files, folders, computer settings, power options, and even Windows 8 apps;
● Search (new) – omnibox to immediately search the computer and the web for anything;
● Favorites - home screen area to pin favorite apps, files, folders, and even websites for quick access;
● Recommendations - app recommendations, with one-click installation; and
● Notifications - recent unread notifications from apps.
The Pokki Menu sidebar is enabled by default on Windows 8 and may also be used on all other versions of Pokki (Windows 7, Vista, XP).
Pokki for Windows 8 beta is available for free download at http://pokki.com.
About SweetLabs
SweetLabs® is the startup behind Pokki® and OpenCandy®. Pokki is an app platform that brings your favorite apps and games to the PC, with all of the fun and convenience of today's mobile and tablet app experiences. OpenCandy is a high-quality advertising network for apps on your PC, having powered user-friendly app recommendations in over 900 million installs to-date. SweetLabs was founded in 2008 and was recently awarded the "5th Best Place to Work in San Diego" by San Diego Business Journal. SweetLabs is backed by Bessemer Venture Partners, Google Ventures, Intel Capital, and O'Reilly AlphaTech. Visit http://www.sweetlabs.com for more information.