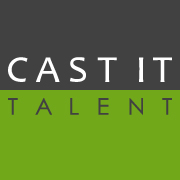 (PRWEB) October 09, 2012
Cast It Talent, an online talent representative and actor services website, is hosting an online open call for MTV's Teen Wolf. MTV, in coronation with Casting Director Wendy O'Brien and Executive Producer Jeff Davis, is looking to cast two identical twin werewolves, Ethan and Aiden. The twins need to be young, handsome, athletic and in top physical shape. Their characters are young, handsome, but utterly menacing. They're dangerous charmers. Ethan has a brilliant mind that he uses for devious calculation. Aiden is the simple brute force of the duo.
Applicants interested in auditioning who fit the characters' description and age requirements (Must be 18 years or older) can submit their headshot, resume and taped audition at http://www.teenwolftwins.com/ . The deadline to submit is Tuesday, October 16th 2012.
There is no charge to submit your audition for these roles. These open calls do not require you to live in Los Angeles or New York. They are all conducted online using videos you shoot in the convenience of your home. No other roles are open to the public at this time, and no drop-in or telephone inquiries will be taken. For more information regarding this open call, visit the Teen Wolf submission page. More information about Cast It Talent is available on the company's website http://www.castittalent.com/aboutus .