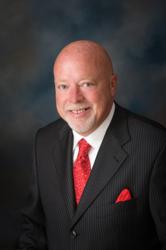 "I love goal setting but I also despise goal setting," says Corcoran. "Too many people use it as a stopping point."
Swansea, Illinois (PRWEB) October 10, 2012
National business coach Bob Corcoran says, "You have to be careful that your goals don't limit your achievements."
Bob Corcoran is founder of Corcoran Consulting and Coaching, whose clients include some of the Top 1000 real estate professionals in the country according to the Wall Street Journal and REAL Trends.
"I love goals setting but I also despise goal setting," explains Corcoran. "Too many people use it as a stopping point."
In a You Tube video, Corcoran outlines the four key steps to setting effective goals in real estate:
1. Set a sales goal and stretch goal. "Shoot for your stretch goal and you will most likely fall somewhere in the middle," points out Corcoran. "Remember that if you shoot for the moon and you land in the stars, it's a pretty good place to be."
2. Figure out how much money you want to make first. So, first figure how much you want to make a year. Next, use a formula of your average sales prices X your average commission X your average split divided by your income goal, and then you will figure out many homes you have to sell per year to meet your income goal.
3. Make sure your goal is realistic. "Don't make the mistake of setting your goal of selling the same number of houses per month and not taking consideration into housing trends – we all know more houses are sold in the Spring and Summer than the winter," explains Corcoran. He says it also important to base your goals on a three-year trend of the MLS listings for your target market area.
4. Post your goals where you can see them. "I tell my clients that once you put your dreams on paper that is when they can become a reality, "says Corcoran. Write your goals down and post it everywhere – your office, at home, in your car, etc. It is also important that to share this goal with someone, and also check in with your advisor monthly to see if you are on the right path to achieving this goal.
In conclusion, Corcoran tells realtors their mantra should be this: "I will persist without exception for that is the only way miracles will happen."
Corcoran Consulting & CoachingSM (http://www.CorcoranCoaching.com) is an international consulting and coaching company that specializes in performance coaching and the implementation of sound business systems into the broker or agent's existing practice. Corcoran Consulting & Coaching provides personalized coaching and implementation of business systems to help top-level REALTORS nationwide meet and exceed their goals. Corcoran Consulting is headed by Bob Corcoran; a nationally recognized leader, speaker and author in residential real estate.
To find out more about Corcoran Consulting & CoachingSM, call 1-800-957-8353 or visit us at http://www.CorcoranCoaching.com.