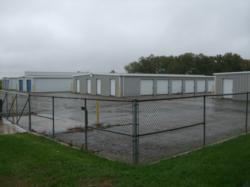 Under my new ownership and direction this particular property has immense potential and I am looking forward to restoring it to my Alcatraz Storage standards."
Brownsburg, IN (PRWEB) October 10, 2012
Alcatraz Storage owner, Kevin Rollings, CSSM announces the addition of another self storage facility located in Muncie, IN to his growing portfolio. Alcatraz Storage Muncie is located at 206 W. Ontario Drive, Muncie, IN in the AirPark Industrial Complex.
After several months of intense negotiations, Alcatraz Storage Muncie was purchased from First Merchants Bank as a deed in lieu returned to the bank. Rollings and First Merchants came to a mutually satisfying purchase arrangement on Wednesday, October 3, 2012 at well below half the appraised value.
This facility went back the bank about 15 months ago when former owner and investor, Scott Meyers was unable to continue to operate several properties in his self storage portfolio. Rollings, who was once the Regional Manager for the Meyer's portfolio, has in-depth previous knowledge of the potential of this facility. Although over the last year and half, the property has fallen into disrepair and suffered negligence by the previous owner, Rollings says, "Under my new ownership and direction this particular property has immense potential and I am looking forward to restoring it to my Alcatraz Storage standards."
Alcatraz Storage Muncie has 201 units varying in sizes and includes a stand-alone building that will be refurbished to accommodate a fluctuating market during restoration of the facility. There is also an office building with 6 office spaces available for rent. It offers an outside area for RV / Camper and boat storage. This addition to the Rollings' Alcatraz Storage portfolio is the third facility purchased in the last 17 months leading with Alcatraz Storage Brownsburg purchased in 2011 and Alcatraz Storage Ft. Wayne purchased early this year. Rollings continues to look for poorly ran Class C and Class D properties to add to the growing Alcatraz portfolio. Rollings has turned mediocre facilities into capitalizing profitable self storage facilities.
Kevin Rollings, shares his experience with other storage investors and managers at his Self Storage Masters Workshop. The Masters Workshop is held in Brownsburg, IN at the West Chase Golf Club. Attendees tour his flagship storage facility Alcatraz Storage Brownsburg and spend two days in an educational seminar learning how to invest, profit and manage in the self storage market.
If you are looking for a successful business in a recovering economy you will want to attend one of the many workshops offered throughout the year. Seating is limited to these events to 30 attendees and all food and lodging are provided. To learn more about Kevin Rollings,CSSM © and how to invest in self-storage and at the same time invest in your financial future visit: http://www.selfstoragefacilitymanagement.com