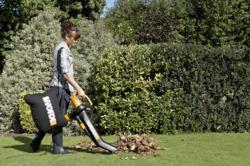 Charlotte, NC (PRWEB) October 09, 2012
There's a roundup underway by suburban and urban homeowners, but in this drive, nobody's on horseback. Homeowners are herding fallen leaves for curbside pickup, the compost bin or as mulch for the garden. To make the job easier, WORX® has introduced their new award-winning TRIVAC®, a 3-in-1 compact blower/mulcher/vac with two-stage mulching system.
Filling 18 paper refuse bags with leaves by hand is back-breaking and time consuming work. The TRIVAC has a metal impeller that reduces leaves into fine, shredded mulch. In fact, with its 18-to-1 ratio, what it fills in one bag, would take 18 by hand. Stage one of this blower/mulcher/vac is a high-velocity shredder blade followed by a pulverizing second stage metal impeller. With many municipalities charging homeowners for curbside pickup of yard waste, the reduction not only saves time, but can save money too.
The green machine is an alternative to gas-powered vacs and is loaded with user-friendly features. For example, converting from blower to vacuum is achieved by simply flipping a switch. No tools are required. Herding leaves and gathering other yard debris is quickly handled by the vac's hurricane force plus winds of 210 mph. But, when navigating through delicate flower beds, the vac's seven-position slide throttle can deliver a gentle breeze.
There's no fumbling with extension tubes or other attachments. Everything is onboard the TRIVAC, and it's ready to use right out of the carton. Unlike conventional blower/vacs, the WORX vac comes with a unique angled tube with a curled tip. This tube design is great for vacuuming leaves in hard-to-reach areas, such as beneath decks, between shrubs, fence lines, behind central A/C systems and other areas, such as the garage
WORX Euro-styled yard care products are well-balanced, smartly designed and easy to operate. The TRIVAC, weighing in less than a gallon of milk, is powered by a 12-amp motor with a maximum air volume of 350 cfm. The vac is equipped with a 1.5 bushel capacity collection bag. The TRIVAC is backed by a two-year warranty.
WORX also has a TRIVAC Leaf Collection System (WG4053, $39.99). Fine shredded leaves and other yard debris are funneled from the TRIVAC through a hose and directly into a waste receptacle.
Here's how the accessory works. A 4-in, diameter, 8 ft. flexible hose connects to the TRIVAC's mulch outlet at one end and a trash can at the other. The end of this hose has an elastic bib that fastens over the trash can's rim. It fits standard, round 32 or 50-gallon trash containers. The elastic cover is secured to the rim by a bungee cord.
Power up and the TRIVAC draws, then shreds leaves and sends them through the hose and into the trash can.
The WORX TRIVAC All-in-One Compact Blower/Mulcher Vac (WG502, $119.99) and Leaf Collection System accessory (WA4053.1, $39.99) are available at http://www.worxtools.com; through online retailers such as Amazon, Target and Lowes.com; or local professional power equipment dealers.
Editor's Note: Media Contact: MKM Communications at
847-255-1903 or mkmcomm(at)gmail(dot)com