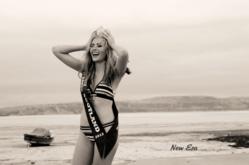 "The partnership Miss Earth and ECO SWIM have is very special and celebrates the power of beauties for a cause." - Louise Brown, UK Director of Miss Earth
New York, NY (PRWEB) October 09, 2012
American innovation from ECO SWIM by AQUA GREEN not only creates jobs in the USA but garners global attention due to its leading position in sustainable manufacturing. Produced in Easton, Pennsylvania, ECO SWIM by AQUA GREEN swimsuits made from recycled bottles and plastic bags prove that saving the planet can be sexy.
"Beauty pageants and bikinis naturally fit together," said Sandra Davidoff, Director of Communications at ECO SWIM. "It only makes sense that Miss Earth reached out to us. We hope that our small steps will create a large ripple effect for future generations."
The women will shine from the outside and within, choosing to grace the "green" carpet, modeling bikinis that are better for the planet. During the 2012 International Miss Earth Pageant, Ciara Walker, Zahida Begum, Sara Pendar, and Zoe Kinsella have all chosen to wear ECO SWIM by AQUA GREEN during their promotional tour. By choosing to wear ECO SWIM by AQUA GREEN, Miss Earth is diverting otherwise-wasted plastics from our landfills and oceans.
"The women of Miss Earth feel blessed and proud to be wearing ECO SWIM beachwear. They can not get over the fact that these very fashionable, glamorous, and luxury swimsuits are made from recycled plastic bags," explains Louise Brown, UK Director of Miss Earth.
There is no better time to reach the pageant's millions of viewers than now. A partnership with ECO SWIM by AQUA GREEN means contestants are able to educate the public on ways to reduce their carbon footprint.
"The partnership Miss Earth and ECO SWIM have is very special and celebrates the power of beauties for a cause. Following our motto "Green, Glam and Gorgeous", ECO SWIM allows the women to stand out and make a statement that green is glam," says Mrs. Brown.
ECO SWIM by AQUA GREEN was invited to partner with the UK contestants of Miss Earth due to its international growth and status as the leading eco-friendly swimsuit company in the market as well as the company's parallel mission to protect and preserve our oceans.
About Miss Earth:
The Miss Earth Pageant is an international beauty competition involving candidates from around the world. Launched in 2001, Miss Earth Pageant's raison d'etre is to have its candidates and winners actively promote and get involved in the preservation of the environment and the protection of Mother Earth. The televised finals will be held in the Philippines November 24th, 2012.
About AQUA GREEN:
AQUA GREEN is one of the world's leading sustainable lifestyle brands that focuses on fashionable consumer products. AQUA GREEN is based in Easton, PA and its swimsuits can be purchased at specialty and department stores as well as on select websites. For more information about AQUA GREEN's environmental leadership, swimwear and events, visit the web site at http://www.ecoswim.com, find the brand on Facebook at http://www.facebook.com/ecoswim, and follow the company on twitter @eco_swim