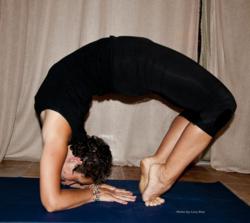 Love is at the root of our very essence and present in all living things.
Margaretville, NY (PRWEB) October 11, 2012
From October 19-21, Flor Villazan and Liz Tucker will offer a "Love Integration Retreat" at the beautiful nature sanctuary known as Blue Deer Center in the Catskills. It will be a weekend of integrative ceremonies featuring the teachings of yoga imparted by Sri Dharma Mittra, Swami Sivananda, and Andrei Ram. In this workshop, open to all levels of study, non-physical, and non-strenuous, Liz and Flor will use the ancient science of yoga as a vehicle to study the self in order to wake up the love consciousness that is ever present in the right side of the heart.
Flor Villazan is a native Venezuelan with a background in dance. She is a graduate of the 200 hour DY Life of a Yogi Teacher Training (DYRT). She teaches a Hatha Yoga beginner class with advance options. Asanas are held, harmonizing the breath, mind and body, developing the consciousness of each pose. Pranayama techniques are also taught. Says Flor, "As life move us around I found my way to the Dharma Yoga Center, one of the most beautiful days I can recall, after having Sri Dharma Mittra, teaching me a total beginner with so much patience and love. That day I left the Center with an amazing feeling of my heart been touch by the presence of God".
Flor teaches from a place of simultaneous learning from her beloved teacher, Sri Dharma. "It is a need for me to keep passing his teachings on to others as they have forever changed my life.
Liz Tucker is a registered yoga teacher (RYT) through the yoga alliance. She teaches open level classes that focus on developing strength, alignment, and proper breathing. Her class helps people feel stronger, more limber, more refreshed, and feel inspired to take the practice off the mat and into daily life."
Having graduated with her certification in 2008 from the Sivananda Ashram in the Catskills, Liz believes that the body is the temple to the soul. She says that by using the breath as a tool to practice the pranic exchange the body can be healed, vibrational energy raised, and individual consciousness expanded in the journey towards self realization.
"Trust your intention to always be pure, honest and rooted in love," Liz says. "Trust your ability to cultivate change. Trust all difficult times will pass, and you'll be better for it. Trust all teachers to lead you to your highest teacher... yourself."
The Blue Deer Center offers this one weekend event, October 19-21. Click here for more information and to register.
Blue Deer Center provides an important setting for teachings and practices that promote balanced relationship with the natural world. They particularly welcome ancestral approaches to healing, ritual, and retreat. The Center's origins are rooted in the Huichol shamanic tradition and living connection to the universal and sacred spirit of fire.