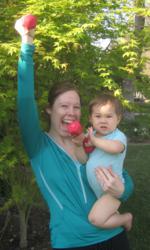 Fit for Expecting's Facebook Workout Group is an innovative and cheap way for moms to get fit!
Pasadena, CA (PRWEB) October 10, 2012
Pasadena-based Fit for Expecting introduces an innovative (and cheap) way for moms to get fit...on Facebook!
The 8-week Cardio & Core Workout Group starts October 15 and will take place in a closed Facebook group. Members will receive a new cardio and core workout each week. That's 16 workouts for only $15.
Fit for Expecting founder, Jennifer Tucker Johnson, saw the need to focus on cardio and core because, "a lot of women spend too much time doing ineffective cardio (think of all of those ladies who spend 60-90 minutes on the elliptical) and too little time doing effective core exercises (think of the ladies who jump off the elliptical, do a few crunches, and complain how frustrated they are with their stomach)."
The workouts will teach moms how to use cardio and core workouts to actually get results. Members will have access to Johnson, a perinatal exercise specialist, and will get to know other moms from across the globe.
Members need access to an elliptical machine and a set of 5-10 lb dumbbells. The group is for moms of all ages, who are not currently pregnant.
Here's the fun twist...
If the group reaches 50 members, the program will be extended by 2 weeks (meaning all members will get 4 additional workouts FREE). If the group reaches 100 members, 3 members will receive a FREE Skype training session with Johnson.
All members must join by October 15. To join, email jenn(at)fitforexpecting(dot)com.
Fit for Expecting provides safe and effective exercise for moms. Its services are anything but cookie cutter and include: Fitness Concierge Service for Moms, Private Training,
Group Prenatal & Postpartum Classes/Workshops. For more information, visit http://www.fitforexpecting.com or call (626) 399-1025.