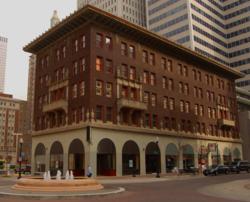 These new employees will serve some of the largest energy companies in the world.
Tulsa, OK (PRWEB) October 09, 2012
Global commodity trading and risk management consulting and solutions firm capSpire, in partnership with the Oklahoma Department of Commerce and the Tulsa Metro Chamber, has announced plans to bring 30 new jobs to Tulsa over the next three years through the state's 21st Century Quality Jobs Program.
According to capSpire CEO Lance Laubach, capSpire is committed to the Tulsa region's continued success as one of the leading energy and technology centers in the country.
"Given our large base of current and potential clients in the Tulsa area, capSpire has designated our offices here to be a key hub for expansion, as well as a primary site of our software development efforts worldwide," Laubach said. "We look forward to offering a unique and highly dynamic work environment to the high-tech talent pool that exists in Tulsa."
Recruiting is already under way to fill a variety of open positions within the company's downtown Tulsa office, located at 11 E. 5th St.
"We are in the process of hiring qualified individuals to provide CTRM software development, consulting and support services here in Tulsa," Laubach said. "These new employees will serve some of the largest energy companies in the world."
Tulsa Metro Chamber President and CEO Mike Neal said: "We are thrilled that capSpire has experienced success in the Tulsa region and is expanding its workforce. I am very pleased to congratulate the entire capSpire organization on their continued growth in northeast Oklahoma."
Editor's Notes: Established in 1903, the Tulsa Metro Chamber's mission is to serve as the principal business-driven leadership organization improving the quality of community life through the development of regional economic prosperity. The Chamber represents 3,000 member organizations, approximately 175,000 area employees and utilizes 3,400 volunteers to accomplish its programs and services.
About capSpire: capSpire is a global consulting and solutions company serving the Commodity Trade and Risk Management sector of the energy industry. Headquartered in the growing technology hub of Fayetteville, Arkansas, with an office in Tulsa, Oklahoma, capSpire has served over two dozen clients across North America and Europe. capSpire provides its clients with deep business and system expertise to simplify and streamline its commodity management functions for crude, natural gas, refined products, NGLs, coal, iron ore, agriculture and freight. Chief among its service offerings are IT strategy and planning, system selection, bespoke software development, implementation services, systems integration and ongoing support.