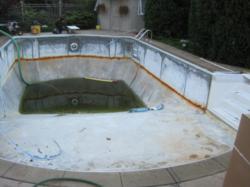 San Diego, California (PRWEB) October 09, 2012
Now that summer is coming to a close, swimming pool owners are beginning to think about draining their swimming pools. The reasons vary, but most often it is because of damage to the pool, staining of the liner or because they live in extremely cold climates where partial drains are required. When there is structural damage to the pool, or stains on the liner, draining is required to fix them; the key is waiting until the right time to do it. Depending on the surface of the pool, they shouldn't be drained when the temperature is above 85 degrees, due to a high risk of causing damage to the liner of the pool.
If the swimming pool is plaster, it is imperative to wait until the temperature is below 80 degrees, as plaster has the highest risk for cracking in extreme heat. The following are some tips on how to drain a swimming pool safely:

Adjust the chlorine levels to 0.00 ppm and the pH to 7.2 – 7.8
Search for storm drains/cleanouts on the property to dispose of the water
Rent a submersible pump from a hardware store
Measure distance from swimming pool to storm drains and purchase backwash hose of that length
Attach hose to submersible pump and run the hose to the storm drain. Make sure to turn off swimming pool pump(s) at this time
Place submersible pump in the deepest part of the swimming pool
Plan ahead to have work done as soon as possible as leaving pools exposed isn't recommended
Other reasons for to draining a swimming pool is when Total Dissolved Solids (TDS), Cyanuric Acic (CYA) and/or calcium levels increase in the swimming pool. This is extremely common in the southwest U.S. because the fill water is loaded with hardness minerals, predominantly calcium. If that is the case, then draining isn't the only solution. Sal Paldino, Vice President of Pool Services Technologies Inc. says, "There are options now where companies can filter swimming pool water, which saves the customer time and money, not to mention that it conserves the water that is already in the pool." In the end there is always a risk when draining a pool, so checking online to see if this type of service is available in the area can prevent damage to the swimming pool liner and leave the pool with water cleaner than tap says Paldino.
As water becomes scarcer, it is feasible that unless there is structural damage to a pool, the day may come that draining will be against the law. Paldino says, "Draining a swimming pool is time consuming, expensive and a waste of water." Paldino feels that in the near future, mobile filtration systems will soon be all over the U.S. filtering pools and conserving billions of gallons of water.
ABOUT
Pool Services Technologies, Inc., founded in 2008 and headquartered in Escondido, California, provides an alternative to draining and refilling swimming pools-a necessary part of pool ownership. Recovering nearly 85% of the existing water in a swimming pool, this service realizes huge water conservation results. Additionally, the company strives to enable swimming pool owners with the knowledge needed to always provide a safe, healthy swim environment for their loved ones and guests by offering free water analysis and explanation of how to maintain their water. Discounted water test kits and water chemistry tools are explained and offered, should the pool owner wish to take it to the next level. The company preaches water conservation, and prudent water chemistry levels, providing the best quality water and swim experience for all swimming pools, residential and commercial