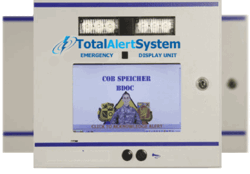 The TAS EDU™ architecture provides rapid integration with 3rd party content management systems, Fire Alarm Systems, CRM systems, alert systems and other critical continuity systems
Chatham, New Jersey (PRWEB) October 09, 2012
The TAS (Total Alert System) EDU™ (Building Alert Emergency Display Unit) sets a new bar for in-building emergency notification. Wall-mounted alerting devices utilize two-way voice and video communication, strobe lights and sounds to engage the attention of building occupants located in common areas, and publish alerts for personnel safety and security with details of the emergency.
"The TAS EDU™ architecture provides rapid integration with 3rd party content management systems, Fire Alarm Systems, CRM systems, alert systems and other critical continuity applications capable of exchanging data using web services (WSDL), serial ports, dry contacts, USB and Wireless technologies." said Howard Ryan, CEO Total Alert Systems Inc.
Built-in Features:

Video Surveillance System
Indoor Speakers
2-Way Intercom System
Strobe Lights
Wall Mounted Digital Monitor with Touch Screen
Integrates with User Directories such as Active Directory
Integrates with existing Fire Alarm Systems
Integrates with existing Video Surveillance Systems
Integrates with existing Speaker Systems Activation
Activation via Standard Internet Browser
Activation via Telephone
Activation via E-Mail
Activation via Touch Screen
Activation via hidden remote Panic Button
5 Hours Battery Back Up System
Wired/Wireless Connection (Bluetooth Enabled)
Auto-Connect Cellular Data Networks
For private, public and government agencies. Secure alert technology enables publishing of critical information instantly.
TAS EDU™ provides notice for immediate attention and the TAS EDU™ devices are mounted in crucial locations throughout building facilities. Ethernet and numerous reliable wireless communication connections insure that the message is delivered.
TAS EDU™ is a byproduct of customers' requests. Alert delivery is all about reliability. Personnel located in common areas need to know how to respond to an emergency.
TAS EDU™ installations slated for delivery to DoD locations in both Europe and North America.
Features Summary System Configurations:
Affordable alternative to costly indoor speaker/PA systems
Integrates with existing telephony systems and existing PA systems.
Unlimited number of admin licenses
Create, preview and schedule your alert in advance (html allowed)
Send alerts that open with "upper most screen" functionality
Customizable user interface
Leverage comprehensive reporting and unique empirical data
Activity is logged and available via a web-based interface easily
Very NON-INTRUSIVE installation
Guaranteed Content Delivery
Content delivery to a select audience or audience's
Scheduled content delivery at a time you designate
Delete/Cancel scheduled alerts
Create alerts from pre-defined and customized alert templates for rapid alert publication
Flash, Video, Sound as easy as pasting html.
Staggering content delivery rates upwards of 100%
TAS EDU™ is compliant with The National Fire Protection Association and The DoD United Facilities Criteria recommendations for common area alerting.
TAS EDU™ solution is the most effective and most affordable common area alerting solution on the market.
Available Operating Systems:
Windows XP™, Windows Vista™, Windows 7™, Windows 8™, Macintosh™, Linux™, UNIX ™.
This technology is compliant with ADA requirements and the 2010 National Fire Alarm & Signaling Code (NFPA72-2010). All systems subject to DoD Security Technical Information Guide Testing (STIGGED) and OS Baseline process.
Superb API web services insure rapid and seamless extensibility to your back-end platform integration requirements.
100% autonomous use and management of the platform behind customer firewall System
Preferred Minimal Requirements:

Windows 7 / Windows Vista
1 GIG megabytes ram
Internet Explorer 6.0 or >
Internet / Network connection >
About Building Alerts: http://www.buildingalert.net
Worldwide U.S. Military organizations such as The United States National Guard, The United States Air Force Academy, The United States Military Academy at West Point, Multi-National Forces in IRAQ, The U.S. Air Force, The U.S. Army now utilize the Building Alert mass notification platform daily for their organizations emergency communication requirements. Building Alert can contact thousands of users with desktop alerts and require receipt confirmation of the message. Those not verified can then be listed on a report and/or sent as a "Target Package" to be automatically contacted by other means such as email, SMS, phone calls and other devices.
For more information on Building Alert, please visit http://www.buildingalert.net.