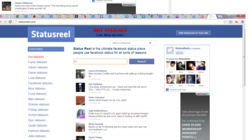 Los Angeles, CA (PRWEB) October 08, 2012
Facebook's Zynga poker is currently one of the most popular games online. Everyday more Facebook users are trying out poker and recommending it to friends, some for pastime and some as a training ground before they try their luck on real poker tables. Because of poker's exciting nature that includes outwitting one's opponent through various strategies at the table. Statusreel has created a handy widget that would help online poker players connect to each other through their Facebook statuses.
Statusreel's Facebook status application works on the simple premise of locating profiles containing a key word or set of words. Statuses contain valuable information about a person's habits, interests and opinions that can be used in creating an online group, or as basis for marketing strategies. For poker enthusiasts aiming to form a group that would solely focus on exchanging techniques and tips on poker, Statusreel's Facebook status widget makes the task easier. Users only need to type poker terms in Statusreel's search bar and wait for a few seconds to see profiles that used the keywords. Searchers can immediately begin commenting on these statuses as an initial contact.
Niche bloggers writing about poker can greatly benefit from this handy status application and improve their online visibility faster. Aside from sharing useful insights about the exciting game in their own Facebook accounts, bloggers can also expand their networks by directly offering personalized pieces of advice to online users through Statusreel. Connecting to poker enthusiasts globally is easy by searching status Facebook users post about poker.
Moreover, it is important that a blogger keeps his blog and Facebook account active and updated with the latest news about poker or other interesting posts aside from the game. Statusreel offers a good source of status for Facebook users with a wide array of categories like funny, dating and love statuses that will surely catch other online users' attention boosting online presence in the long run.
About Statusreel
Statusreel.com is a product designed to give end-users an instant amount of Facebook statuses in real-time. Users can search via keyword or by subject matter to see what chatter is taking place publicly on Facebook and the web. Statusreel also allows websites and blogs to embed a Facebook status widget directly into their site. Statusreel is a web-based Facebook tool that is 100% free.