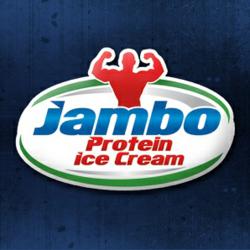 Introducing
Jambo Protein Ice Cream
"The World's Healthiest
Ice Cream!"
Hallandale Beach, Florida (PRWEB) October 10, 2012
As Jambo Production LLC officially begins its operations on October 10th 2012, the company has come up with four exciting flavors including Berry Burst, Java Gym Coffee, Chai Green Tea and Chocolate Bliss. These sumptuous flavors are a result of a unique blend of natural sweeteners with no artificial flavors, no added sugar, no preservatives, no lactose, no hormones, no antibiotics, no gluten, no GMOs, no rBGH, and zero BSE and low calories. All the Jambo Protein Ice Cream flavors are made with organic pasture-fed cows' whey protein.
The ice cream will be available in convenient 6oz single-serve containers, in four special yummy flavors. Jambo Production LLC offers consumers a new product, Jambo Protein Ice Cream, that is bound to cause a stir in healthy eating circles. The use of high quality whey protein makes the Jambo Protein Ice Cream so amazing and delicious. These four flavors of ice cream will certainly leave anyone craving more. Kids, fitness enthusiasts, diabetics and athletes will be swept off their feet by Jambo Protein Ice Cream's wonderful taste and athlete oriented balanced nutrition. These ice creams are ideal options to enjoy cravings in a healthy manner. Jambo isn't a guilty pleasure; just a pleasure – a sweet whey to get protein.
About Jambo Production LLC
Jambo Protein Ice Cream is owned as well as developed by Jambo Production LLC. They are engaged in producing and marketing high quality, delicious and nutritious protein ice cream. Developed in September 2009 for revolutionizing the world of high-protein snacks, Jambo Protein Ice Cream now guarantees you 100 percent satisfaction.
Jambo Production LLC creates a nutritionally balanced ice cream that carefully answers and fulfils the needs of athletes and active lifestyle individuals. The production house began with organic pasture-fed cows' whey protein, which is the highest-quality protein available that contains all the essential amino acids specifically for muscle recovery and repair. Afterwards the company focused on making the most delicious ice cream possible. The team at Jambo Production LLC works tirelessly to bring this amazing product to the world, the company also believes in their product and put an emphasis on their effectiveness, safety and taste.
Contact Information
Contact the team at Jambo Production LLC at 786-505-2626 or mail them at info(at)jamboicecream(dot)com, sales(at)jamboicecream(dot)com, support(at)jamboicecream(dot)com