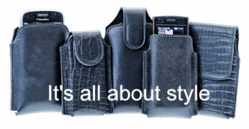 Nutshell products will accomodate any mobile device and case, just the way you want it
Seattle WA (PRWEB) October 10, 2012
Nutshell's leather belt holsters for handhelds protect a constantly growing range of increasingly sophisticated devices from the world's leading Smartphone Brands.
Nutshell's wireless accessories carry new Smartphones from Acer, Apple, BlackBerry, Huawei, HTC, Motorola, Nokia, Samsung, Sony Ericsson and Vertu
The twenty five new Smartphones grow its support database to over 800 handheld devices, including PDAs (Personal Digital Assistants), PDTs (Portable Data Terminals), Smartphones, cellular and mobile phones and medical devices.
.
"While they are becoming faster, thinnner and taller than ever, there is still no definitive size for the latest Smartphones," says Nutshell CEO Ian Miller. "Over the years we have developed a comprehensive range of different sized cases that will accept a handheld device, either on its own, or in combination with a protective third party case."
Through its online catalog (http://www.tuff-as-nuts.com) Nutshell offers on-demand manufacturing (where every customer gets to tailor their holster to exactly meet their needs). In addition to selecting styles, fastenings and colors, customers can also add a pen-loop (holds a regular ballpoint pen) to the side of the case, and/or an elasticized front pocket, perfect for storing earbuds.
"Nutshell product will accomodate any mobile device and case, just the way you want it," says Miller.
Based in Auckland New Zealand, Nutshell has been providing outstanding protection for Smartphones of all types since 1997. An International Affiliate Member of the Consumer Electronics Association, the company is also a wholesale vendor of wireless accessories to Amazon.com.
The new Smartphones include the following devices:
•Acer Liquid Gallant//Duo
•Apple iPhone 5
•BlackBerry Curve 9310
•BlackBerry Bold 9790
•Huawei Ascend D Quad
•HTC One V
•HTC One X
•HTC Incredible 4G LTE
•HTC Titan !!
•LG Motion 4G
•Motorola Razr HD
•Motorola Razr M
•Motorola Razr MAXX
•Nokia Lumia 710
•Nokia Lumia 800
•Nokia 808 PureView
•Nokia Lumia 900
•Samsung Reverb
•Samsung Galaxy Note
•Samsung Galaxy S-III
•Samsung Galaxy Victory 4G LTE
•Sony Ericsson Xperia ARC
•Sony Ericsson Xperia Play 4G (GSM & CDMA)
•Vertu Constellation Blue
•Vertu Constellation Quest Blue