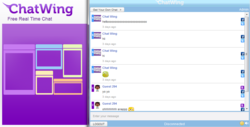 New York, NY (PRWEB) October 09, 2012
Chatwing's developers has just announced the release of their latest chat widget for blogs and websites. Along with that, the developers are also sharing the importance of 'fostering global relationships.' For Chatwing's developers, this is a blog communication style that can benefit everyone, and Chatwing shoutbox can help achieve that purpose. The Chatwing application also has three form factors that bloggers can highly utilize in many instances.
Chatwing's developers believe in global connectivity, right before they introduced the free chat box to other communities. Based on global statistics, many blogging beginners tend to lose initiative once they faced the competition in the blogosphere. This is one of the reasons why many blogs are becoming inactive. Chatwing chat app can repel inactivity by allowing bloggers to interact with their visitors at an efficient rate. Since the average Chatwing chatroom can gather 1000 users at once, more discussions can be started.
Since blog communication styles change over time, the Chatwing team continues to research for dynamic ways on how they can help more people. With Chatwing's free shout box, communication will become an easy thing to achieve. The application's installation process can also be finished in just few seconds. Users can also customize the appearance of their widgets so it will fit the theme of their blogs even more.
The Chatwing team is always looking for ways to help new bloggers. With this, the Chatwing team commits to the improvement of their free chat widget so that more bloggers can enjoy efficient communication in the simplest ways possible.
About Chatwing.com
Chatwing.com specializes in the new field of website chat. Over years, the Chatwing team has introduced live chat widget for hundreds and thousands of blogs. The Chatwing application bridges people from many parts of the world, creating global synergy through the Internet. The shout box can be installed in just seconds, and it can be used for varying purposes such as leisure and Internet marketing. It also allows a user to customize the size, color, and name of the widget. Chatwing is 100% free for everyone.