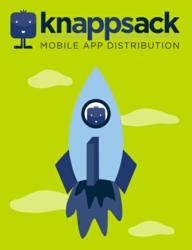 Now, organizations looking for an MAM solution can use Knappsack to provide a simple and secure method for deploying applications while maintaining control over their assets.
Charleston, SC (PRWEB) October 09, 2012
SPARC, a Best Place to Work Winner, has released Knappsack, a mobile application management (MAM) platform, as both an open source project and paid service. In contrast to traditional methods, Knappsack makes it easy for organizations to manage and distribute mobile and desktop applications across multiple devices, and allows for customization and contribution to the platform itself.
Knappsack is a full mobile application management platform that helps organizations securely deploy digital assets, including both mobile and desktop applications. Secure groups can be established to provide easy access to applications for distinct sets of users, making Knappsack an idea solution for diverse organizations. Applications can be updated in Knappsack, ensuring that the latest versions are always available to anyone using the system.
As the mobile industry moves towards a Bring Your Own Device (BYOD) model, Knappsack provides the technology needed to freely distribute applications across multiple devices - including desktop operating systems.
"Organizations everywhere are struggling to find technology to support the distribution of digital assets to mobile and desktop devices. Now, organizations looking for an MAM solution can use Knappsack to provide a simple and secure method for deploying applications while maintaining control over their assets," said Dayel Ostraco, SPARC Mobile Evangelist.
Knappsack is available as an open source project on GitHub, which allows developers to freely download and use the platform at their organizations, customize the tool to meet their needs, and contribute features and code back to the project. Releasing Knappsack as an open source project is natural step for SPARC, as incorporating open source methodology is part of its culture.
"Because we used open source components to develop Knappsack, we wanted to give back to the community and give other developers a chance to contribute to Knappsack. In the end, this contribution to the open source community will help Knappsack become the most feature-rich mobile application management tool in the market," said SPARC's CTO Bob Williams.
Knappsack is also available as a paid service, which provides a turnkey solution to organizations that need to deploy digital content to multiple devices and desktops, such as iOS, Android, OSX, Windows, and more. Knappsack's service offering is free to get started, with pricing plans for larger organizations available.
Visit knappsack.com to join the mobile application management movement.
About SPARC
SPARC is a software development company creating engaging, forward-thinking technology while putting customers, employees, partners, and the community first. With offices in Charleston, SC and Washington, DC, SPARC provides software development services for the government, federal, and commercial sectors, and develops commercial software products for the human resources, green energy, analytics, and mobile markets. Come by for a tour and see SPARC's award-winning culture for yourself, or learn more at http://www.SPARCedge.com.
About GitHub
GitHub is a social network for programmers. Git is a distributed software management program created by Linus Torvalds, orginally for the Linux Kernel Development. GitHub is a hosted Git repository. Github allows you to take part in collaboration by forking projects, sending and pulling requests, and monitoring development. Visit github.com to learn more.